BLT + T
About this Recipe
Go beyond the BLT-with turkey! Twist a classic bacon, lettuce, and tomato by incorporating sliced turkey breast, a spread of avocado mayonnaise, and toasted, rosemary-topped focaccia to give this sandwich extra flavor. Maximize craveability with roasted sweet potato wedges or a sweet-and-sour savoy slaw on the side.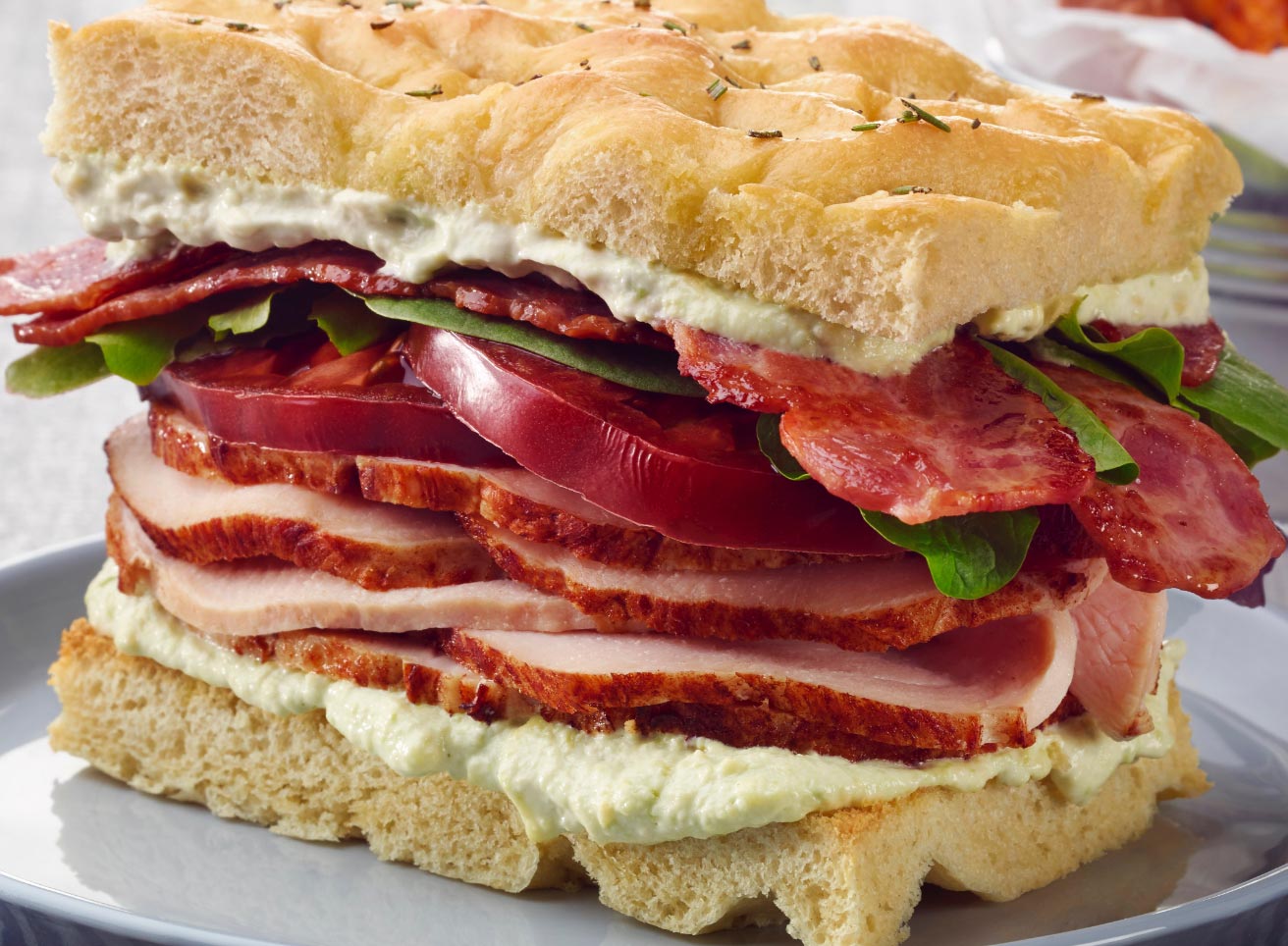 BLT + T
Directions
Brush the tops of each slice of the focaccia bread with olive oil. Sprinkle with rosemary and toast to a golden brown.
Spread 1 1/2 tbsp. of Fresh Avocado Mayonnaise on the inside of each slice of bread.
Assemble the sandwich in the following order: bottom slice of toast, sliced turkey, heirloom tomatoes, spring mix, turkey bacon, top slice of toast.
Plate and serve with a ride of Roasted Sweet Potato Wedges.
Ingredients
3 tbsp avocado, mayo, fresh
2 slices Heritage Ovens® Roll(s), Focaccia, 3/4-inch thick; toasted, warm
1/4 cup Peak Fresh Produce® Lettuce, Mix, spring
Roma® Oil, Olive, as needed
Peak Fresh Produce® Rosemary, Fresh, a pinch
6-10 each sweet potato, meduim-size , roasted, wedged
2 slices Peak Fresh Produce® Tomato(es), heirloom; 3/16-inch thick
3 slices Butterball® Turkey Bacon, cooked crisp
4 slices Butterball® Turkey Breast, oil browned
Fresh Avocado Mayonnaise
Directions
Combine the avocado with the mayonnaise and Worcestershire sauce and blend well, adding salt and pepper as needed.
Place the mixture into a covered container, label and date.
For best results, refrigerate for at least 2-3 hours.
Ingredients
1 Peak Fresh Produce® Avocado(es)
1/3 cup West Creek® Mayonnaise
1 tsp Worcestershire sauce, white
Roasted Sweet Potato Wedges
Directions
Toss the sliced sweet potatoes with olive oil.
Mix together the paprika, salt and black pepper, and sprinkle over the oil-coated potatoes.
Bake the potatoes for about 20 minutes until crisp.
Garnish with green onions and cilantro and serve with habanero lemon honey (drizzled or on the side).
Ingredients
1 tsp McCormick Culinary® Black Pepper, Ground
1 tsp Peak Fresh Produce® Cilantro
1 tsp Peak Fresh Produce® Onion(s), Green
1/2 cup honey, habanero, lemon
2 tbsp Roma® Oil, Olive
1 1/2 tsp McCormick Culinary® Sea Salt, Mediterranean, Ground
2 tsp McCormick Culinary® Smoked Paprika 
3 Peak Fresh Produce® Potato(es), Sweet, cut into 6 wedges per potato