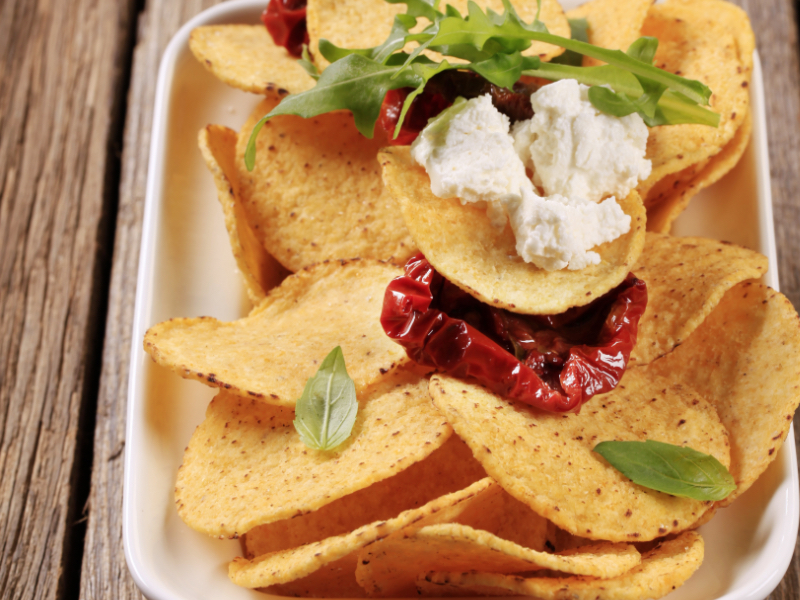 Performance Foodservice is proud to present Contigo® Corn Tortilla Chips! Made with premium masa corn flour, these chips are milled and processed, baked then fried for an authentic tortilla chip with great corn flavor. Our Trans‑Fat-Free, Kosher, Whole Grain and Gluten-free corn chips are available in white restaurant‑style, yellow rounds or tricolor and are made with whole grain corn masa flour, vegetable oil and salt. Contigo Yellow Round Corn Tortilla Chips have a more intense flavor than traditional white corn chips and are sturdy chips for dipping with a solid base for dishes. Contigo Restaurant‑Style White Corn Tortilla Chips and the colorful Tri-Color Tortilla Chips are hearty and will withstand the thickest and chunkiest of salsas and dips. Contigo Tri‑Color Corn Tortilla Strips add a colorful and delicious, crunchy garnish to a Latin-inspired salad or entrée.
Contigo Corn Tortilla Chips are great for application in appetizers, nachos, walking tacos, soups and chilaquiles. Contigo Corn Tortilla Chips can also be ground and used as a gluten‑free ingredient substitute in menu items such as chicken nuggets, casseroles, stuffings or a food binder in a veggie burger or seafood cakes. Contigo Tri-Color Tortilla Strips are red, white and blue white corn tortilla strips with a crunchy and crispy texture and delicious lightly salted corn flavor.
Contact your sales representative for more information about availability in your area.