The biggest football game of the year — it's coming up and it's a glimmer of normality in very unsettled times. So, how do restaurants get the most out of a super Sunday under the current conditions?
Tailgate
Tap into the tradition of sports/event tailgating by creating your own outdoor venue. Maybe it's your own parking lot or maybe it's an open space for a business, organization, or neighborhood association that's willing to partner with you for a day. Delineating spaces with small cones can help create the feel of pregame tailgating and take you through gameday.
Something like this, especially with drinks involved, might have been nearly impossible just a year ago, but reinterpreted liquor laws have opened up all sorts of possibilities that you can take advantage of today. Even better, some legislatures are making these changes permanent, meaning many of these new avenues to serve will be with us for years to come.
Cook Out
Even if you're able to use your own parking lot, taking food prep outside might not be a bad idea to help foster the idea of community. Maybe it's something as simple as flipping burgers but, if you've got the right equipment or skill sets, it's not too hard to dial it up to appeal to your own dining niche.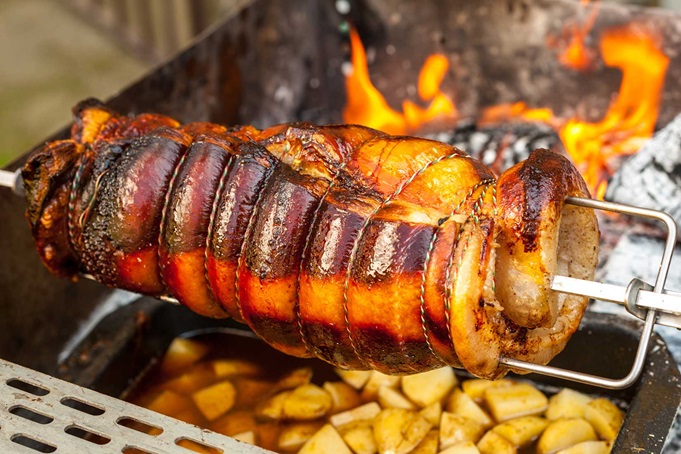 Roasting a pig or letting huge pots of chili simmer overnight could be great culinary draws. Or you could simmer Brunswick stew or barbecue some brisket. Imagine the appeal of oysters roasting on the grill and using propane burners for quick crawfish boils. Even when the weather is a little chilly, people still love cookouts and being able to retreat to the comfort of their car can take the edge off.
Drinks
It all depends on your licensing requirements and comfort level. A designated beer garden area, that might require drinks to be consumed in or allowed out, can help streamline service and help adhere to local ordinances.
Limiting it to beer service, via kegs or cans, might be simplest but, again, the radical changes to liquor laws over the last year might give you more options. Pre-made cocktails in pouches with straws are ubiquitous and would be perfect for a high-volume event such as this.
Tech
An outdoor gathering to watch a televised sporting might have been problematic even just a few years ago. These days, TV projectors can utilize the side of a building or even a white tarp to create a screen with an easily watchable image — even in the daytime as long as it's not too bright. Better yet, prices for such equipment are very affordable and typically both Bluetooth compatible and designed for streaming. You don't even have to deal with bulky speakers as compact, wireless options have amazing sound quality.
This concept has been using the big game as an example, but there's no need to limit your tailgate to one date. The college basketball tournament is on the horizon, and with the right tech, it's possible to show multiple games at the same time.
With a little help from today's tech and a lot of ingenuity, people are figuring out how to come together and continue many of our shared traditions.