Welcome to the next era of restaurant technology that helps you grow your pizzeria by transforming digitally.
Connect all your tools, processes, and data in one united system with the HungerRush Restaurant Management System (RMS). Designed originally for pizzerias, the comprehensive and integrated SaaS platform with modular applications maximizes revenue, increases profit margin, creates better guest experiences, and enables new levels of data-driven decision making.
Multi-Channel Ordering and Marketing. Build a profitable on- and off-premises business.
Offer

multi-channel ordering

through the web, in-store, an app, or by text.
Build customer relationships with personalized marketing and integrated

HungerRush Loyalty program.

Adapt to new customer trends with centralized ordering data.
Increase sales through digital promotions via email, in app, or SMS
HungerRush's pizza online ordering system leads to a 18% ticket size boost on average for online orders.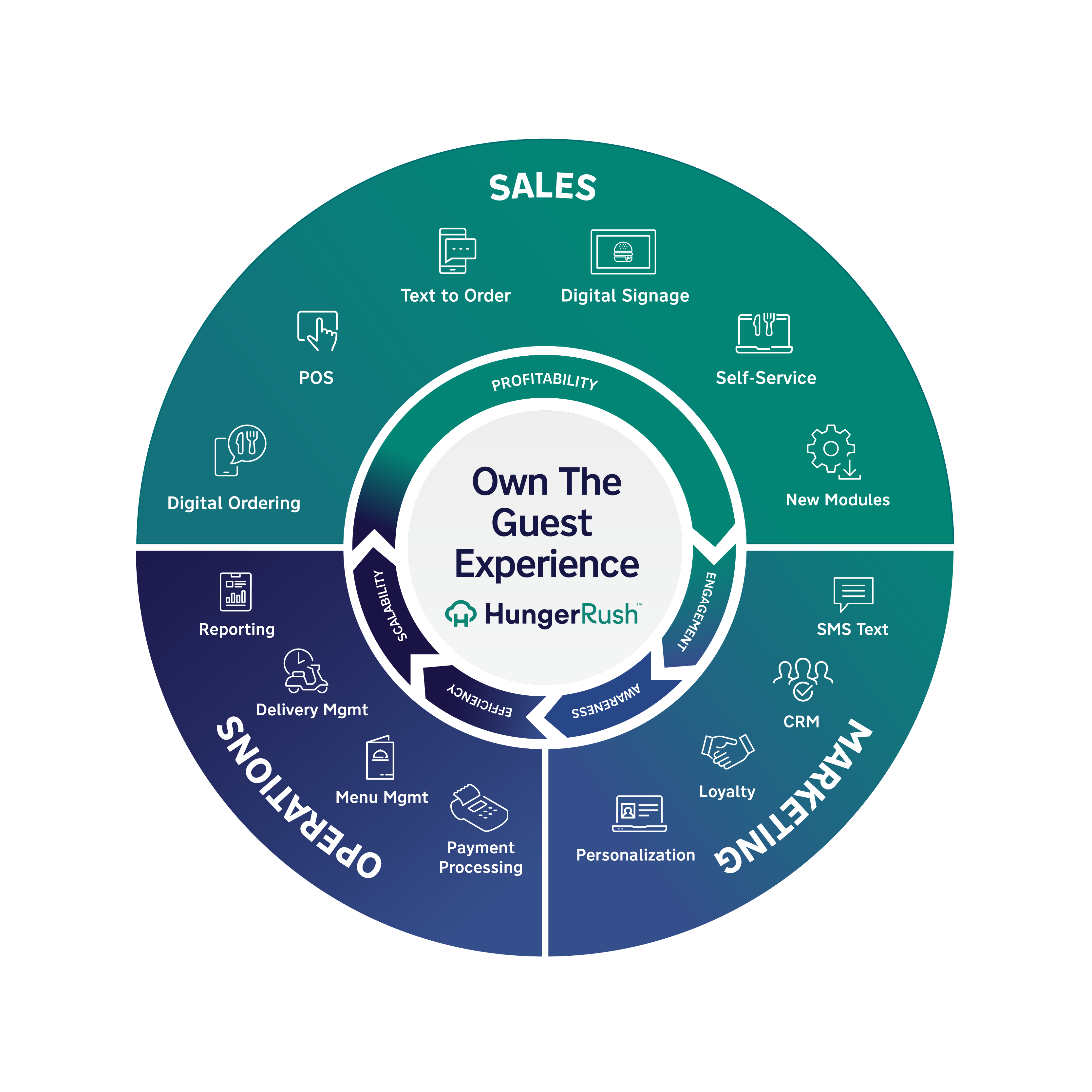 "It's like air traffic control with HungerRush!" — The Slice Pizzeria
Loyalty members order more than twice as often as non-loyalty members. — Piezoni's Pizza
Simplicity of SaaS to keep up with high-growth pizza restaurants. Let SaaS do the work while you grow your business.
Always have the latest software and save time with updates.
Load RMS modules through the cloud as you need them.
Connect front-of-house and back-of-house operations for unprecedented efficiency
Innovative digital ordering channels and tools that drive revenue. Offer text ordering and marketing and increase repeat business.
Bring artificial intelligence, speed and accuracy to SMS orders with

HungerRush TextAI

.
Engage with customers through text marketing and build relationship and repeat orders.
Gain control over your online ordering site and optimize your menu and season themes on the fly with

HungerRush Online Ordering Designer
"Text to order is the best and easiest ordering experience on the planet especially for a marketplace that prioritizes convenience," said CIO of Jet's Pizza.

Faster and easier payment processing designed for pizza restaurants. Close out your day with confidence.
Competitive payment processing rates.
Faster transactions and quickly offer the latest digital payment options.
Unique cash management program: accelerate cash flow from daily operations
Performance Foodservice One Source customers receive special pricing of 20% off contract. To get started with
HungerRush Restaurant Management System
, sign up for One Source today!