It's time to tailor holiday menus and services to delivery and takeout trends.
It's clear that the holidays will be different for many restaurants. Depending on what phase a state or area is in coupled with patrons' concerns about dining in a traditional setting — this holiday season, it is time to creatively pivot.
To-go, curbside, and third-party delivery have now become an integral part of our industry. What use to comprise maybe 3% to 5% of sales are now as much as 40% to 50%. But the holidays will provide a boost to restaurants regardless of conditions.
The key to being part of that boost is embracing the to-go segment and capitalizing on consumer desires to create a great family holiday meal full of memories. More families will be ordering that great meal to go than usual. Many people who normally cook at home for the holidays have been doing more home cooking than ever before. They need a break, and you are that resource.
As a chef and restaurant owner, you have all the knowledge and creative tools needed to help a family experience an amazing holiday meal to go. Creating to-go menu items that travel with quality is essential. The side items should focus on casseroles, stuffing, roasted vegetables, and salads. For appetizers, stay away from fried foods that turn sad during travel and re-heating. Focus appetizers on dips, spreads, smoked salmon with flavored cream cheese, cheese boards, charcuterie boards, boiled or steamed seafood, baked oysters,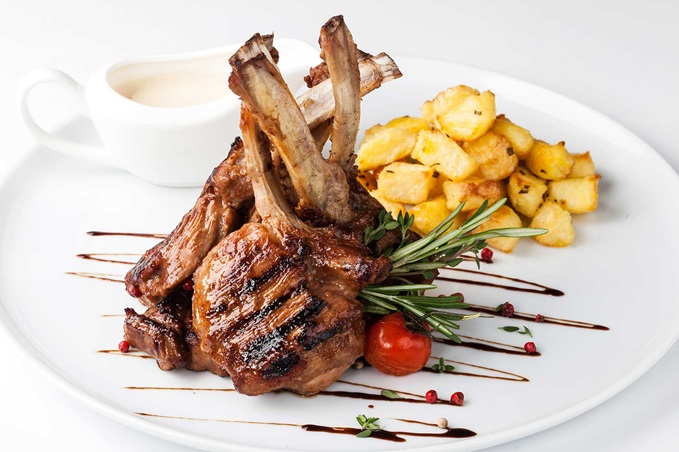 and oyster patties to name a few. Make sure to supply cooking, holding, storage and shelf-life information on the menu items. Offer entrees that are whole pieces of protein rather than fabricated. Because of moisture retention in the larger piece of muscle, a whole ribeye travels and re-heats better than a cut steak. Racks of lamb, racks of veal, pork crown roasts, suckling pig, prime rib, and herb crusted tenderloin are good protein examples. Understanding that the consumer will be warming these center of the plate items, consider cooking 50% of the way and providing detailed cooking and holding directions for the best eating experience.
Sauces for these entrees are the professional flavor boost the home cook cannot easily create, so offer pairings. Focus on glace sauces, which are reductions that intensify flavors, along with chutney, aioli, relish, compote, and salsa.
When it comes to the perfect decadent dessert — pies, cakes, tarts, cookies, and cannoli all can travel without losing quality. Offer a fruit coulis or fruit compote to enhance the enjoyment and create a delectable memory for the consumer.
To really think outside the box and make your restaurant stand out, include recipes and ideas for the to-go holiday leftovers. In New Orleans, we call that lagniappe — which translates as something given as a bonus or extra gift. And, that, after all, is what the holidays are all about.