GiftAMeal makes it easy and profitable to give back to your community.
Make your customers feel like heroes with the fastest-growing cause marketing program for restaurants.
It's as simple as: take a photo, give a meal. The impact is all local, turning your restaurant into a community powerhouse without requiring you to donate food or add work for your staff.
Launch within days and see your customers start sharing happy photos instantly.
Incredible Impact – For Your Business and Community
Let your guests feel great about choosing your restaurant. Customers using GiftAMeal spend more, tip more, and return more frequently.
Over 1,000,000 meals provided – and counting!
Why Restaurants Love GiftAMeal
Flat, predictable pricing

: Month-to-month, zero commitment – or save big with annual plans.

Unlimited positive impact

: No matter how many photos are taken, we keep donating.

No extra work for staff or messy integrations

: Use our free promotional materials and watch your customers transform into champions for their community… and your brand.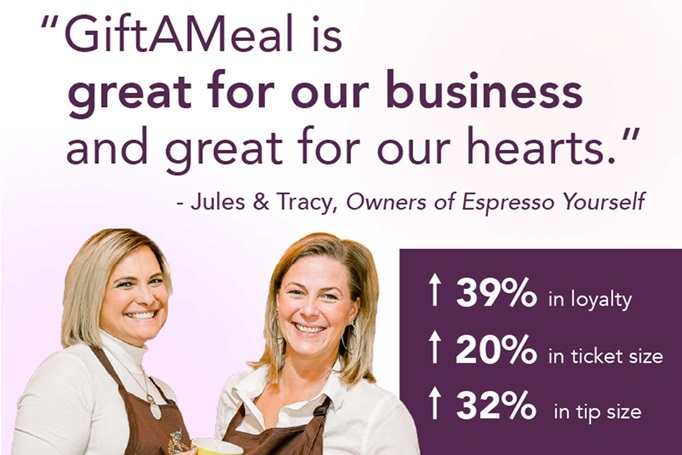 "Working with GiftAMeal has been great! Onboarding was an easy process, they are a pleasure to work with, and it's an honor to help those in need" – owner, Patty's Cheesecakes
"Customers love it, and it gets them talking and sharing their experiences. It's marketing by doing good, and I love seeing the impact add up month after month. Compared to traditional advertising, there's just so much value." – GM, Anthonino's Taverna
"Our guests use GiftAMeal daily and love the program. They're sharing tons of pictures out on social media, supporting our business and the cause" – owner, Cliff's Taphouse
How it Works for Customers
Scan a QR code to open GiftAMeal in their phone browser.
Customers take photos of their food or drink purchase.
For each photo taken, GiftAMeal donates to a local food bank to cover the cost of providing a meal's worth of food to a local family in need.
Customers are then invited to share their photos on social media to give additional meals (+1 meal per platform selected)
And it's all 100% free for the customer, with GiftAMeal handles all food bank donations directly. Your restaurant provides no food or additional funds - just gets all the credit.
Get Started Today – Special Offer for Performance Foodservice Customers! $69/monthly (no commitment) or $59/mo if paid annually.
Covers all donation costs plus 50 bonus meals per month
Free promotional materials + design assistance
Never any hidden fees, changes, or surprises
Learn more about GiftAMeal by signing up for One Source today!