Adding curated, miniature portions of drinks to your menu adds a creative way to boost your bottom line.
For years, beer and wine flights have proven to be great ways to introduce your patrons to more of your beverage offerings. People get to try a variety of products and will likely order more full-size glasses when they find one they like. This now translates to cocktails, especially with the rise of cocktails on tap and more bars pre-batching cocktails in order to keep up with the crush of busy service times.
Having a flight—a few smaller pours, usually around two ounces, of various drinks—can help introduce clientele to new spirits, different flavors and fun experiences. You can use it as a tool to help educate guests, like Amanda Swanson, the bar manager of Fine & Rare in New York.
"I oftentimes find patrons who claim gin as their spirit of choice, but don't fully appreciate or understand how drastically different gins can be," Swanson says. "This is especially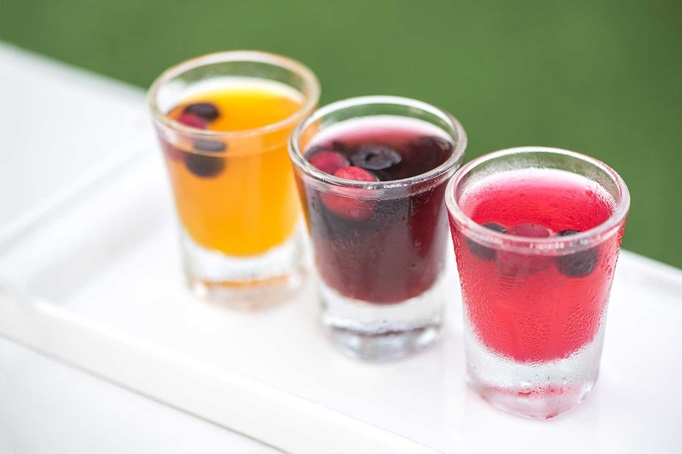 in contrast with other spirits due to the unlimited possibilities the botanicals represent."
Swanson offers the $25 Gin & Tonic 3 Ways: Botanist served with dehydrated chamomile flowers, lemon peel and fresh lavender; Hendrick's with cucumber and rose petals; and Old Raj by Cadenhead, a Scottish dry-style gin served with dried lemon, orange peel, cinnamon sticks and safflower.
"If the drinks beside each other don't tell a story," Swanson, who is considering an amaro flight for winter, says, "then the concept lacks substance."
At Kefi, a Greek small-plate concept in Knoxville, Tenn., Chris Williams oversees a bar program that features 18 draft cocktails. Guests can choose three cocktails from any of the 18, ranging between two- and four-ounce pours for $21.
"If you're stuck between a couple of drinks, you can be experimental," Williams says. "You're not going into a cocktail bar hoping you'll like the $12 cocktail you're about to buy. With the flight, people find one they like and they'll order a full one."
Back in New York, Honeybee's offers three classics—Boulevardier, Vieux Carre and Old Pal—on tap that can be ordered in a $22 three-pour flight. General manager and bar director Sean McClure says this helps introduce people to what he calls forgotten classics. He suggests other bars add something similar to entice guests to order more and they don't have to add tapped cocktails either.
"You can batch out a certain amount for the night and have those behind the bar," McClure says. "This gives another fun option on the menu."