Your menu speaks to guests on your behalf, so it's important that it says exactly what you want it to say, clearly and in a way that guests can easily understand.
When customers are confused, they buy less. When guests see typos, misspellings, and grammatical errors on your menu, the message they receive is that you didn't care enough to put the time and thought into getting it right. They think, if that's the message you send before the food leaves the kitchen, how good is the food going to be? Here are some menu copy do's and don'ts:
Do
Work with a copywriter
In the best-case scenario, if you have more than the most basic menu descriptions (along the modern gastronomy lines of "turnip | mackerel | yolk,") consider hiring a copywriter on a project rate (should be about 5 to 10 hours) to help you create a consistent voice and check for accurate grammar and spelling. It's a one-time investment that leads to greater clarity for your guests, and clarity leads to commerce.
If a copywriter is out of the budget, consider a trade with someone you know who has a good grasp of the English language. Perhaps one of your regular guests or a friend or relative of an employee would be willing to trade a few hours of expertise for a free meal.
Use a consistent format when listing menu items
Pick one way to list menu items, and then do it consistently throughout the entire menu, including any menus that are online. This improves readability and reduces confusion. If you break up menu items into different sections with headers, make sure the content under each header is listed clearly. Double check for redundancies from one section to the next and simplify accordingly.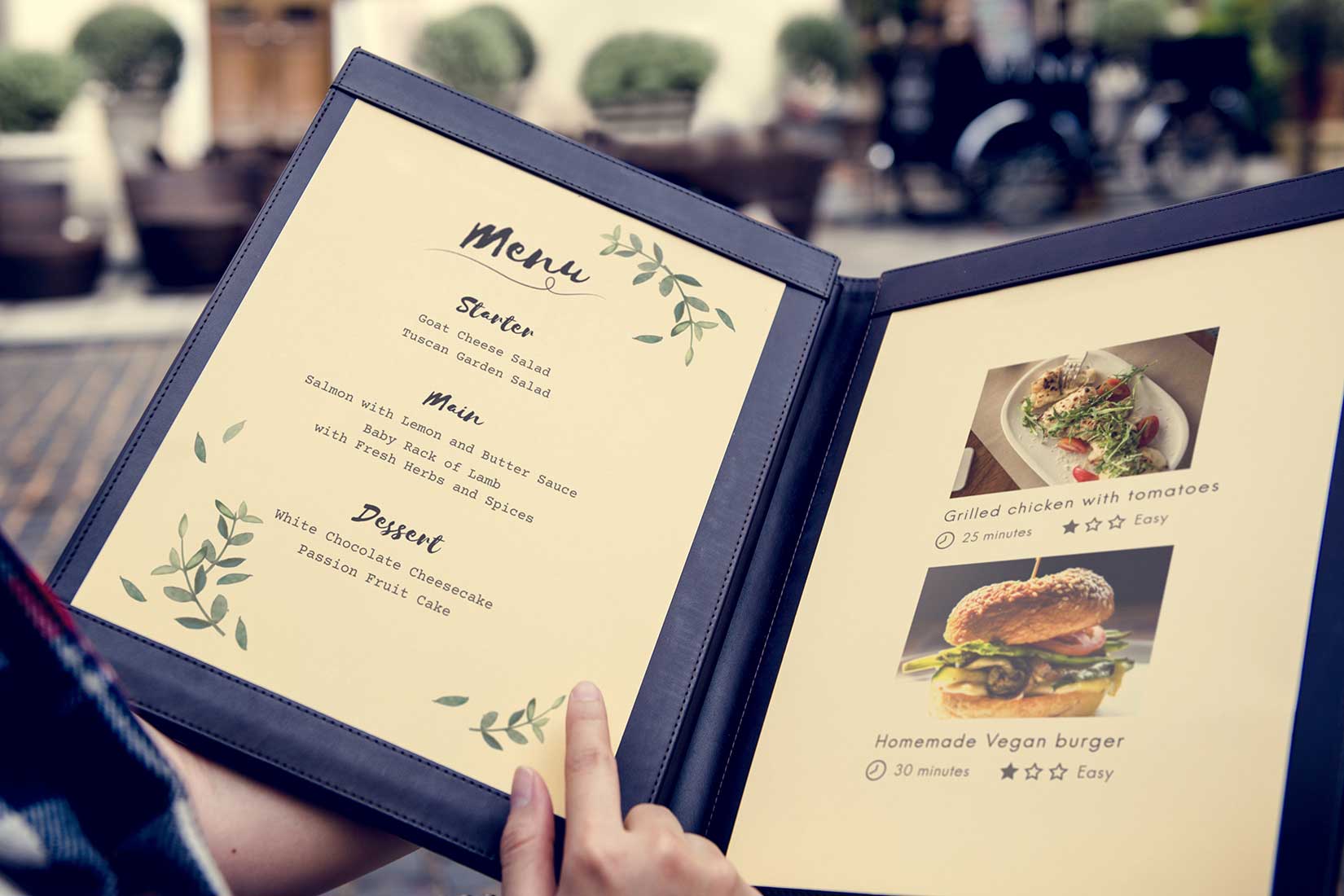 There is some debate about whether to use descriptive language on a menu or let the menu items speak for themselves. This is a personal choice and one that has more to do with the style of a restaurant than the substance of the food. If you are going to be descriptive, it is even more important to hire a copywriter who can tap into your brand mentality and speak evocatively to your guests.
Cultivate a consistent voice
And speaking of brand mentality, your menu is one of the most important marketing tools for your restaurant. Every single customer interacts with it, so it's essential that your brand voice comes through. If your brand is formal, that should be reflected in the voice. If your brand is playful, make your menu a fun reflection of that. Menus should be memorable, and one of the best ways to make sure guests don't forget your menu is to make it a mirror for your brand.
Consider the visual format
While we could talk extensively about the design of the menu itself, when it comes to menu copywriting, the important thing here is to make sure the verbiage suits the look. If you have a four-page, leather-bound steakhouse-style menu, then cute, quippy language might not be the right fit. Likewise, if you have a simple, one-page menu with clean lines and a crisp font, you might not want to add too much descriptive language or copy in general — let the food speak for itself.
Don't
Send to your designer or printer without proofing multiple times
As a writer and a customer, it amazes me how many times I see simple mistakes on menus. This is a document that you should take seriously because it is a revenue driver. If you can't afford to invest in a copywriter, at the very least, you should have several different people check the menu for accuracy, spelling, and grammar before it goes to the designer or printer.
Add things willy-nilly
Once you've put the time and effort into crafting a thoughtful menu, don't change it. Allow your FOH staff and guests time to get comfortable with it. If you are going to add specials, consider a menu insert, chalkboard, or verbal specials. Once you have a menu the way you want it, keep it that way.
Lie
We shouldn't have to say this, but it happens more often than you might think. With guest expectations at an all-time high for locally-sourced, sustainable, fresh, healthy food, it can be tempting to over-promise. Make sure if you list a farm or meat/seafood provider on your menu, that you can reasonably assure guests that those are, in fact, the products you are using on a nightly basis. If you need to make changes on the menu, have servers verbally let guests know about the substitution until you can change what's printed.