Braveheart Steak Au Poivre
About this Recipe
This dish is said to have originated in the bistros of Normandy, France in the 19th century. Noted figures in France were known to take their companions for late suppers to enjoy dishes prepared with pepper as their aphrodisiac properties may have proved to be most useful. This version utilizes strip steak rather than the traditional filet. It is portioned into medallions to crate a beautiful "faux" mignon. Bon Apetit!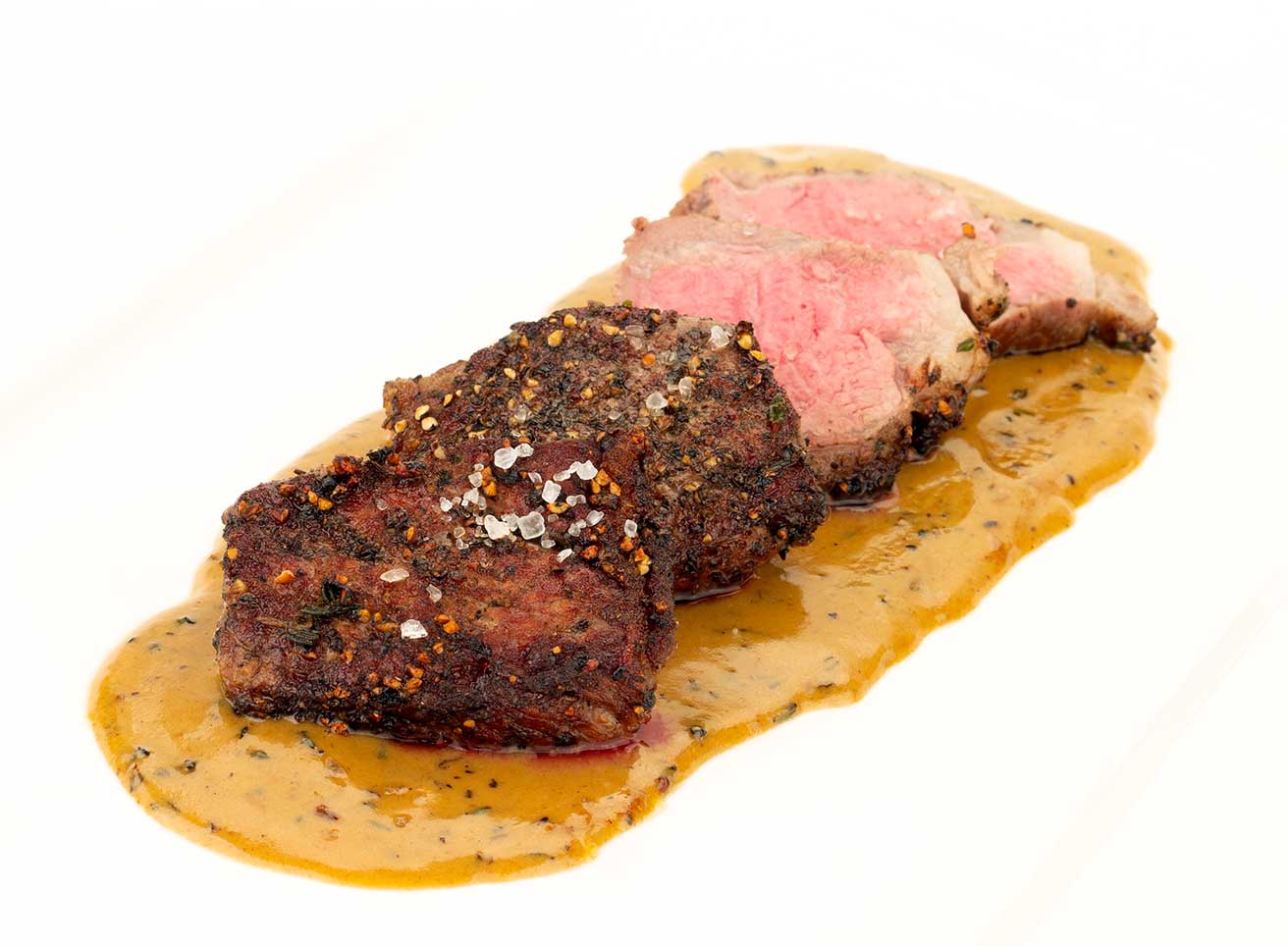 Braveheart Steak Au Poivre
Directions
Toast the peppercorns in a 350 degree oven for 15 minutes. With the bottom of a skillet or a coffee grinder, crush all the peppercorns. (Cracked and crushed, not ground). Transfer crushed peppercorns to a plate, then roll steaks in the pepper mixture so they are evenly coated. Season liberally on both sides with salt.
Heat butter and oil in a large skillet (preferably cast iron) over medium-high heat. Add half of the thyme and all of the fresh garlic to season the oil. Add steaks and cook until well browned, about 4 minutes on each side. Remove steaks from pan and place on sizzle plate and place in 375 degree oven for 6-8 minutes until desired temperature is reached.
In the original skillet over medium heat. Deglaze the pan with cognac adding the liquor to the pan and igniting carefully with a long-handled match. Allow alcohol to burn off, about 1 minute., then add demi-glace. Cook sauce until reduced by 1/3 of its original volume. Add cream and cook, stirring constantly. Allow to reduce to desired thickness. Taste and season as needed. Remove steaks from oven and place in sauce. Allow to finish in sauce.
Place steaks on plate, cover with sauce and garnish with roasted garlic and remaining fresh thyme.
Ingredients
2 tbsp, crushed
4 tbsp Nature's Best Dairy® Butter
1/2 cup cognac
2 cup demi- glace
8 Peak Fresh Produce® Garlic, Clove(s)
1 cup cream, heavy
2 tbsp Piancone® Oil, Olive
1 tbsp pink peppercorns, crushed
salt, kosher , as needed
4 each, 7-8 oz Braveheart New York Strip Steak Medallions, 1 ½" thick, tied with butcher twine
8 sprigs Peak Fresh Produce® Thyme, Fresh
2 tbsp white peppercorns, crushed