Cheese and Tomato Grits
About this Recipe
Tomatoes and cheddar cheese are quintessential complements to this classic take on grits. Additional herbs and spices bring the dish together.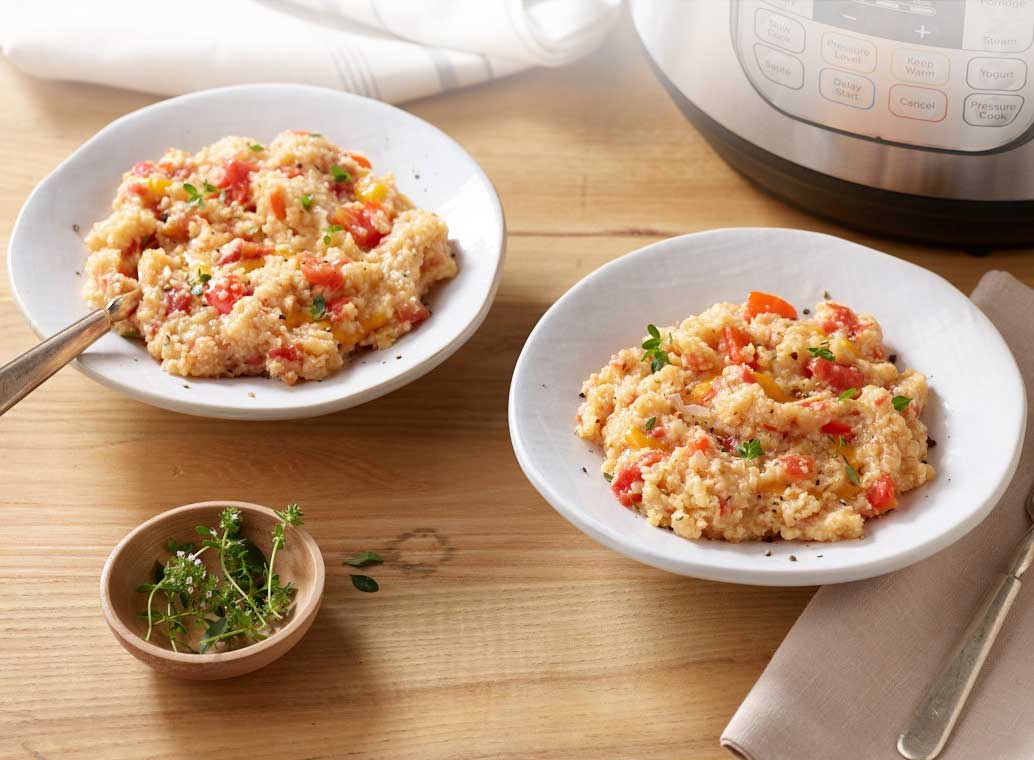 Cheese and Tomato Grits
Directions
Spray Instant Pot with nonstick cooking spray.
Heat olive oil on Sauté mode. When hot, add onion, bell pepper and garlic. Cook 2 minutes, stirring frequently until onion and pepper are crisp tender.
Stir in crushed red pepper, salt and thyme, if desired, tomatoes and vegetable broth. Stir in grits until no lumps remain.
Turn Instant Pot off (CANCEL). Place lid on with valve in sealing position. Set to Pressure Cook on HIGH for 10 minutes.
Allow steam to release about 15 minutes, then release remaining pressure.
Stir in cheese and serve.
Notes: 1 can (14.5 ounces) no-salt-added tomatoes can be used in place of fresh. Drain tomatoes very well.
Ingredients
1/2 cup Peak Fresh Produce® Pepper(s), Red Bell, diced
3 1/2 cups broth, vegetable
1/4 cup Roma® Cheese Shredded, Cheddar
2 cloves Peak Fresh Produce® Garlic, minced
1 cup Quaker® Grits, Old Fashioned or Quick
1 tbsp Roma® Oil, Olive
1/2 cup Peak Fresh Produce® Onion(s), chopped
red pepper, crushed
1/4 tsp salt
1/4 tsp thyme, dry
1 cup Peak Fresh Produce® Tomato(es), chopped, well drained