Thai Chicken Banh Mi
About this Recipe
The chefs at Kraft Foodservice move the meatball into global street food fare with this flavor-packed recipe. The sauce is the thing—coconut milk, Grey Poupon Classic Dijon Mustard, Kraft Mayo Real Mayonnaise and Thai sweet chili sauce combine for an explosion of flavors.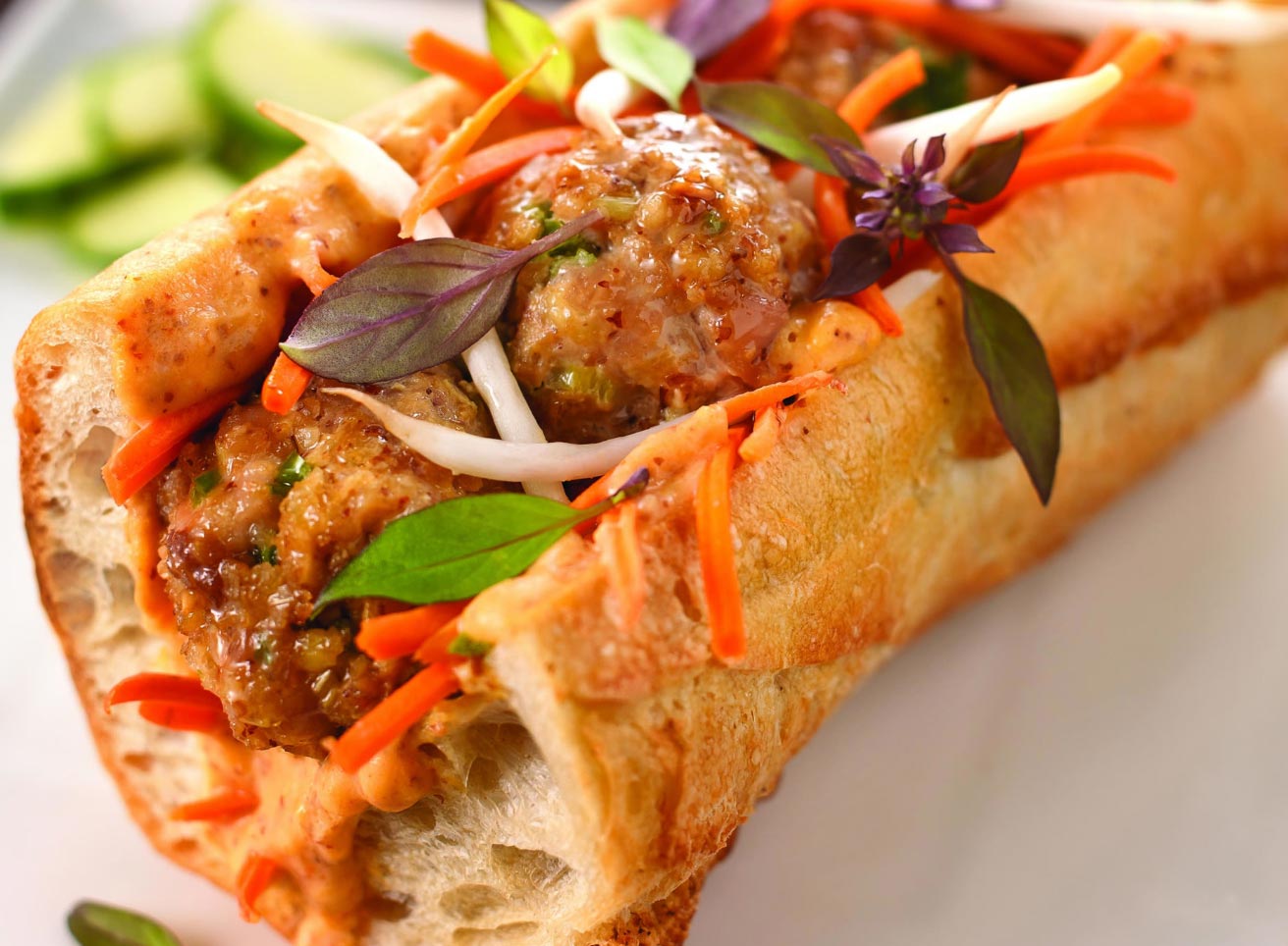 Thai Chicken Banh Mi
Directions
For each serving: Spread cut sides of 1 baguette piece with 1/4 cup Spicy Coconut-Dijon Sauce; fill with 5 meatballs and 1/4 cup each bean sprouts, Pickled Carrots and basil.
Ingredients
1 1/2 oz basil, leaves, Thai, fresh
12 oz bean sprouts
24 Heritage Ovens® Bread, Baguette(s), French Mini 8-inch, split in half
Thai Chicken Meatballs
Directions
Chop half the chicken into medium dice-size pieces.
Place remaining chicken in food processor with eggs, mustard, fish sauce, and soy sauce; pulse until well blended.
Sauté bread crumbs, nuts, garlic, ginger, lemongrass, scallions and chiles in hot oil on medium heat 15 min.; cool.
Add to chicken mixture; mix lightly. Use #40 scoop to make 120 meatballs (or 20 meatballs for trial recipe), about 1 oz. each.
Refrigerate 1 hour.
Bake meatballs in 400ºF convection oven 20 min. or until done (165ºF).
Ingredients
3/4 Cup(s) Asian Pride® Fish Sauce
12 each chile(s), serrano, diced
3/4 Cup(s) ginger, root, minced
3/4 Cup(s) Grey Poupon® Country Dijon Mustard
3/4 Cup(s) lemongrass, chopped
6 Tbsp. oil, canola
2 Cup(s) panko breadcrumbs
3/4 Cup(s) Peak Fresh Produce® Garlic, Clove(s), minced
6 each Peak Fresh Produce® Scallion(s), diced
1-1/2 Cup(s) Planters® Dry Roasted Peanuts, finely chopped
6 each Ridgecrest® Egg(s), Large, lightly beaten
6 lbs. West Creek® Chicken, Thigh(s), Boneless Skinless
Spicy Coconut Dijon Sauce
Directions
Cook coconut milk in saucepan on medium-low heat until reduced to about 3 cups (or until reduced to about 1/2 cup for trial recipe), stirring frequently.
Remove from heat; whisk in mustard and chili sauce. Cool completely. Whisk in mayonnaise.
Refrigerate until ready to serve. Meanwhile, prepare Meatballs.
Ingredients
2 5/8 qt coconut milk
1 1/2 cup Grey Poupon® Classic Dijon Mustard
3/4 cup Kraft® Mayo Real Mayonnaise
3/4 cup Thai-Style Sweet Chili Sauce
Pickled Carrots
Directions
Whisk vinegar, water and salt until well blended; pour over carrots.
Refrigerate 4 hours.
Ingredients
12 oz. carrot(s), shoestring
3 Cup(s). rice wine vinegar
1 tsp. salt, kosher
3 Cup(s). water