Turkey and Fig Panini
About this Recipe
Sweet fig jam, tart apples and creamy brie cheese complement the mild flavor of oven roasted turkey breast.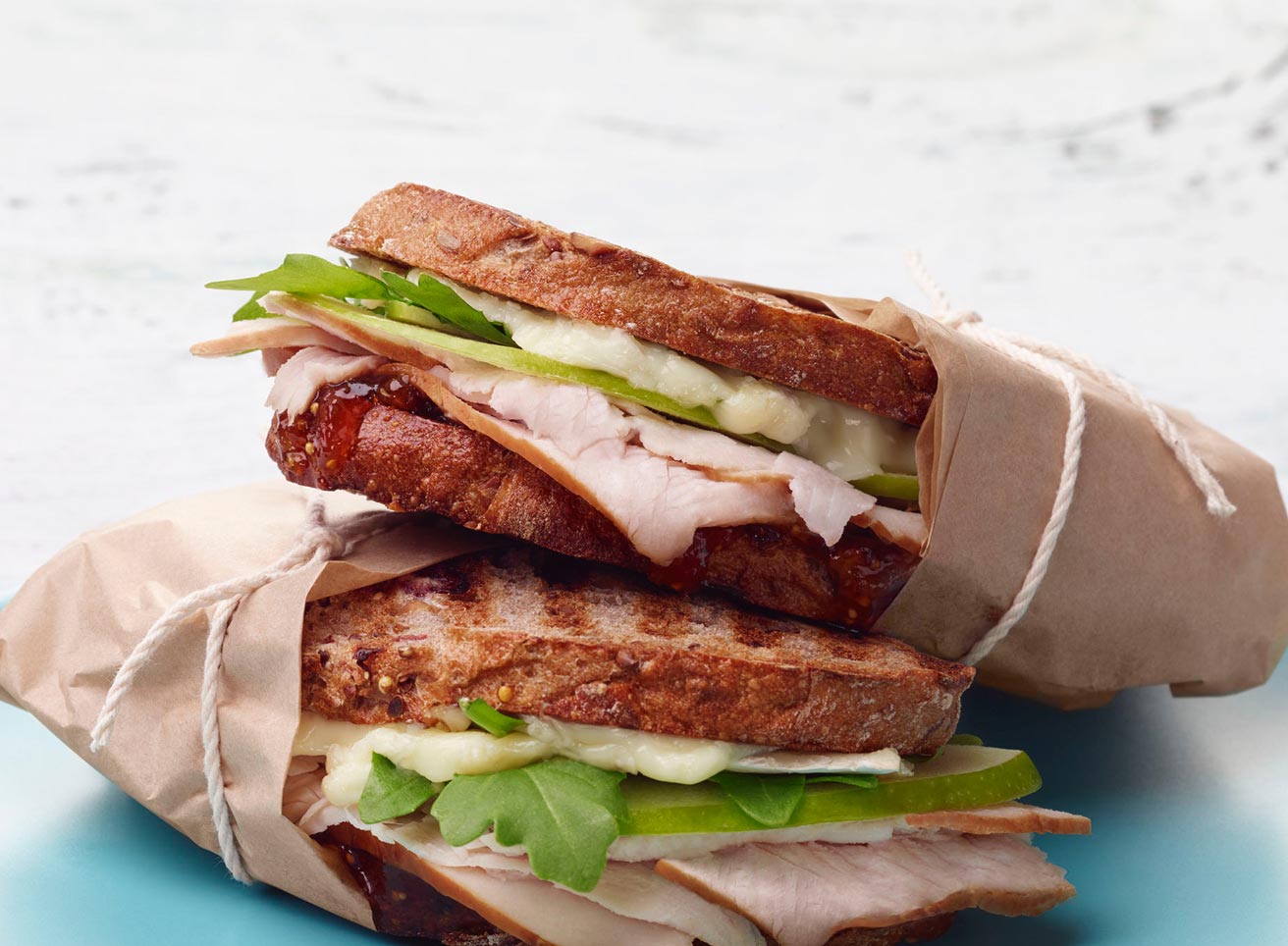 Turkey and Fig Panini
Directions
Combine the water and lemon juice. Add the apple to the mixture.
Remove the apple and dry off. Slice the apple into slices.
Preheat a panini grill to medium-high heat.
Spread 1 teaspoon of butter on one side of each slice of bread. Place the bread, buttered side down, on a clean work surface. Over one slice of the bread, spread the fig preserves. Top with the chopped walnuts and then with the sliced turkey. Arrange four Granny Smith Apple Slices over the turkey and top with the arugula. Then arrange the brie slices evenly over the apples. Top with the remaining slice of bread, buttered side up.
Carefully place the sandwich on the panini grill and grill for 4 to 5 minutes, until the bread is golden brown and the cheese is melted.
Remove the sandwich from the grill, cut in half and serve.
Ingredients
2 slices bread, walnut
3.5 oz Butterball® All Natural Oven Roasted Turkey, sliced 1/8" thick
1 tbsp lemon juice
2 tsp Nature's Best Dairy® Butter, softened
1 1/2 oz Nature's Best Dairy® Cheese, Brie, sliced 1/8' thick
1 Peak Fresh Produce® Apple(s), Granny Smith, peeled and cored
20 leaves Peak Fresh Produce® Arugula, Baby
2 tbsp preserves, fig
1 1/2 tbsp walnuts, chopped
1 cup water