Safety and transparency can help you save in the long run.
For many restaurant owners, operating a foodservice business during the coronavirus pandemic requires a new set of skills, the foremost of which is an ability to maintain a safe and sanitary working environment. But with revenue down in many cases, investing in safety can be a burden. Fortunately, running a safe and sanitary restaurant doesn't require spending much money. Here are some tips to keep your restaurant safe while saving money.
Leadership
Your staff will be looking to you to set the tone for how your restaurant will deal with the coronavirus reality. Be transparent in how you are dealing with the issues at hand, and communicate regularly with all staff via meetings and other updates. Review and share CDC and FDA guidelines with your staff.
This might be a good time to create an email group for your staff so that you can send updates for them to read before coming to work. You should update your employee handbook to reflect the changes you are making during this time, especially as it relates to staff safety.
Clearly communicate your policy for reporting symptoms of or exposure to coronavirus, your leave and return to work policies. Make sure you share these changes in several ways — written, emailed, and posted in the restaurant. This helps reinforce your message and makes sure there's no way your staff can miss it.
Social Distancing
By now, we know that social distancing is one of the most effective ways to avoid transmission of the coronavirus. "50% of consumers say that, in order to feel comfortable dining in at a restaurant, tables would need to be spaced 6 feet apart" (Restaurant Business Online). Guests will be looking for dining rooms that reflect the need for additional space. Guests should have 6 feet of clearance between themselves and the other guests in the dining room.
Likely, you will need to remove some tables from the dining room. Larger tables and communal tables should go in storage, and your dining room should primarily include two-tops and a few four-tops. Likewise, the bar is a place where social distancing is almost impossible. For that reason, temporarily suspending service at the bar is a good way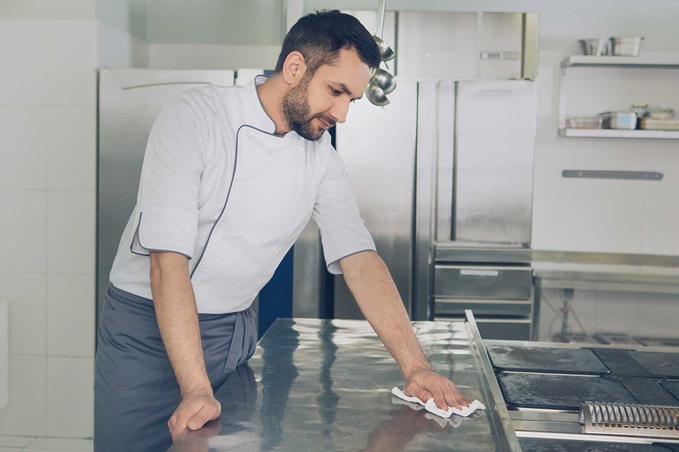 to keep people safe. Especially if you have a smaller dining room, it may be smart to create some directional signage, pointing guests to the bathroom and marking the entrance and exit, while suggesting a flow of traffic that keeps guests moving in one direction.
You may also need more time between tables in order to fully sanitize. Use your reservation platform to stagger reservation times to give your staff enough time to do this properly. You will also want to remove any self-service stations, such as salad bars or condiment/utensil areas and, instead, have servers provide those items for guests. Additionally, you might want to provide some directional signage anywhere guests form a line. Distancing guides on the floor can help customers understand where it is safe to stand.
Sanitization
In all likelihood, your servers and BOH employees already practice good sanitization, but now it may be useful to revisit those practices in a training session specifically geared towards the coronavirus. Emphasize the importance of washing hands frequently, sanitizing doorknobs and handles, not touching the face, and properly using gloves and masks. In addition, provide visible sanitization stations throughout the dining room, at the host stand, and in other high-traffic areas. Also, make sure to add any new tasks related to sanitization to whatever side work log your team uses, so that they become a regular part of the routine.
Consider the items that your guests come in contact with frequently and brainstorm ways to make these interactions safer. For example, it may be useful to switch to disposable menus and/or chalkboard menus to avoid having to sanitize menus between each use.
Communication
One tactic for handling these heightened safety measures is to designate a manager as the primary point of contact for coronavirus-related concerns. Connect with this employee daily and make sure the rest of your staff understands this person's role in helping everyone stay safe. This might also be a good point of contact for any guests who have concerns about safety and sanitization.
In addition to communicating in-house, it would be wise to share your updated health and safety policies with your guests. By letting guests know what measures you're taking to create a safe environment for them, you're underscoring their responsibilities to help you in that endeavor. If you require guests to wear masks or if you have temperature checking requirements for guests to enter your establishment, make sure you communicate that in multiple ways — newsletters, social media, signage, and especially on your website.