Asian Chicken Pasta Salad
About this Recipe
This comforting combo of Asian flavored West Creek® Chicken, Assoluti® Rotelle and fresh veggies serves up a hearty casserole side that can stand as a main. As much a true veggie salad as it is a pasta salad, this dish is one for the healthier menu options. Feel free to swap out any veggies you may need to use up, or add sugar snap peas and other traditional Asian favorites.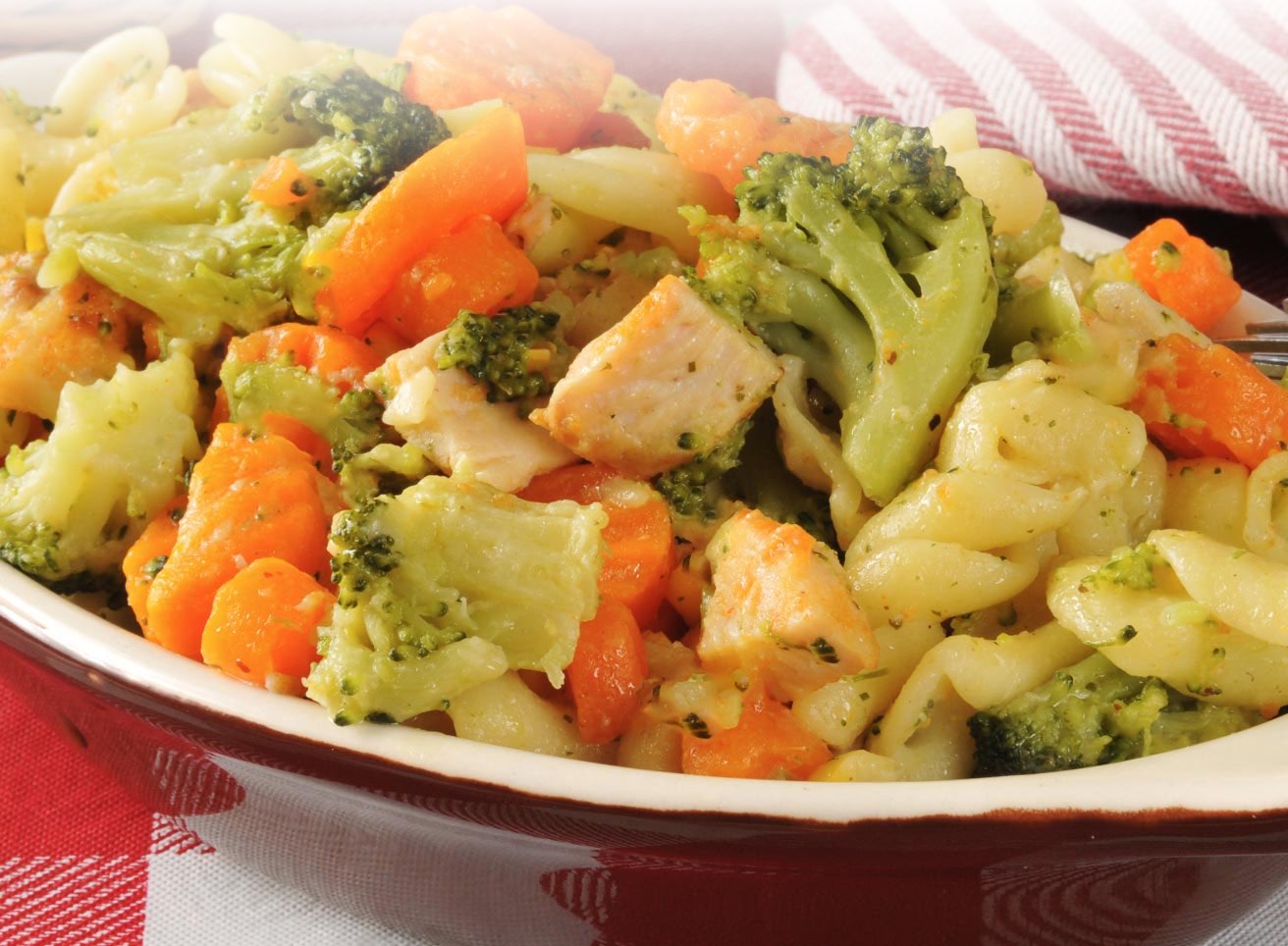 Asian Chicken Pasta Salad
Directions
Bring a large pot of lightly salted water to a boil.
Add pasta and cook for 8 to 10 minutes or until al dente; drain.
Place in large bowl with chicken.
In large skillet or wok, heat 1 Tbsp. oil.
Cook carrots with 1/4 tsp. salt until tender-crisp, 3 to 5 minutes.
Remove carrots, place in bowl with chicken and pasta.
Add 2 Tbsp. oil to wok and cook mushrooms with 1/4 tsp. salt until tender, 5 minutes.
Remove mushrooms and place in bowl.
Add 2 more Tbsp. oil to wok, stir-fry broccoli, cauliflower and onion until coated with oil.
Add 1/2 tsp. salt and 1/4 cup water, cover and cook 5 to 10 minutes, until tender-crisp, stirring occasionally.
Remove vegetables with slotted spoon and toss with pasta and chicken.
Mix in green onions, soy sauce and sesame oil, adjusting soy and sesame to taste.
Serve warm or cold.
Ingredients
8 oz. Assoluti® Pasta, Rotelle
5 Tbsp. Brilliance® Premium Oils Vegetable Oil
3 Tbsp. oil, sesame
1/2 head Peak Fresh Produce® Broccoli, Floret(s)
2 Peak Fresh Produce® Carrot(s), sliced diagonally
1/2 head Peak Fresh Produce® Cauliflower, Floret(s)
1/2 Peak Fresh Produce® Mushroom(s), quartered
1 bunch Peak Fresh Produce® Onion(s), Green, chopped
1 tsp. salt, divided
2 Tbsp. soy sauce
1/4 Cup(s). water
5 West Creek® Chicken, Breast(s), Boneless Skinless, Halved, cooked, cute into bite-sized pieces