Kale-Wrapped Trout
About this Recipe
Trout is one of the most popular menu items at any upscale seafood restaurant. And kale is loving its fame these last few years, and this fresh take will be the spotlight of the lunch or dinner menu. Delicate flavors of garlic, vinegar, mustard and tomatoes make the dish one that would pair well with white wine or a light craft mocktail.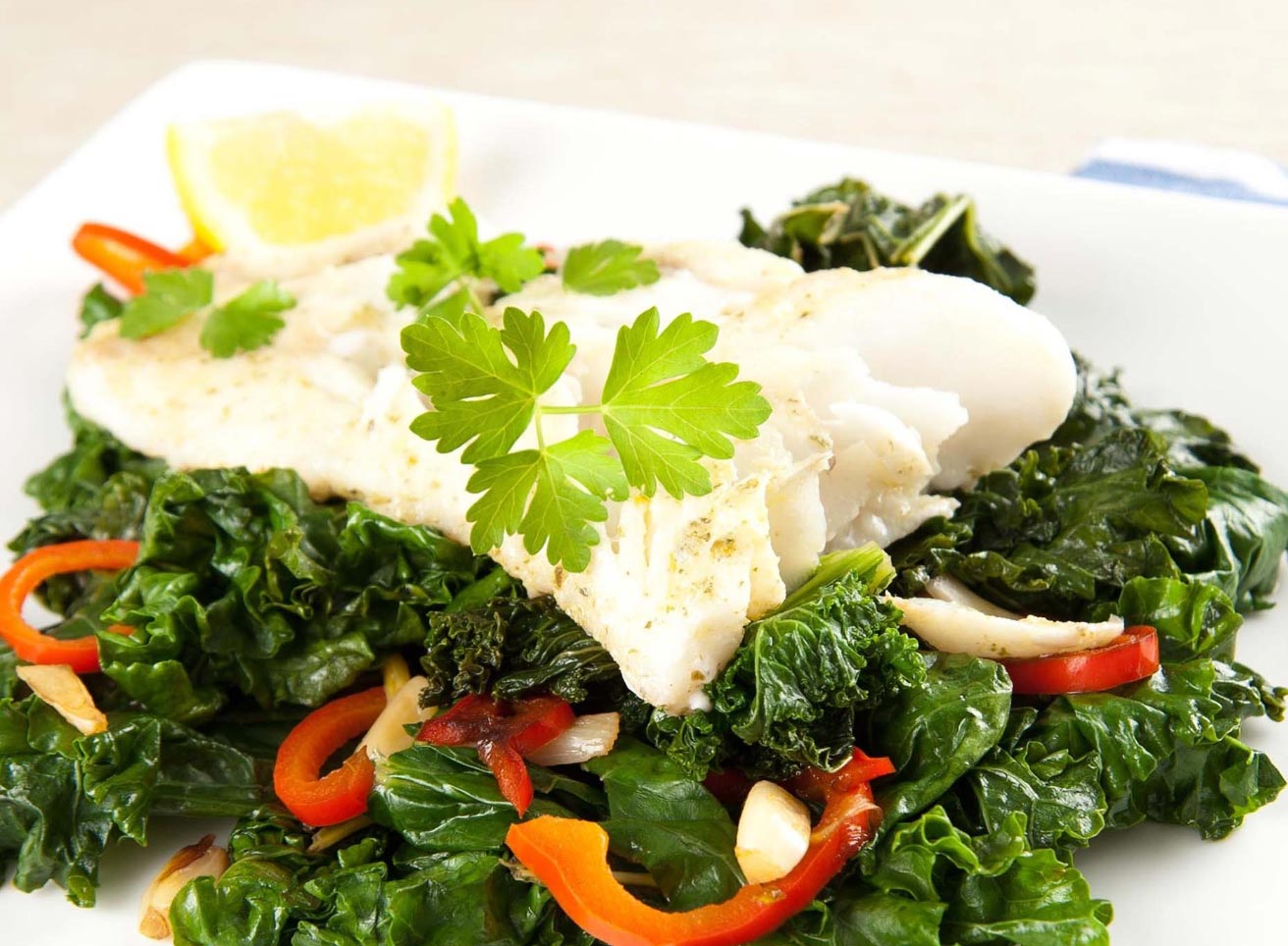 Kale-Wrapped Trout
Directions
Put 1 quart of water in a pot and bring to a boil.
Carefully cut the stems out of the kale leaves. Place each leaf in boiling water to blanch for 15 seconds. This will make the leaves softer. Place leaves on a cloth towel to dry.
Mix spices together. Season each filet of The Fresh Catch Trout with mixture.
Wrap each filet using two kale leaves. Tie the leaves like you would put ribbon on a package.
Preheat oven to 365 degrees. Place kale-wrapped trout on sheet pan and bake for 15-20 minutes. The fish will actually steam while wrapped in the kale.
While fish cooks, in a blender or food processor, add garlic, vinegar, mustard, basil, olives and tomatoes and puree. While machine is running slowly add olive oil. Transfer mixture to a streaker bottle. Refrigerate (will last seven days).
Remove fish from oven and cut string off. Carefully with a sharp knife, cut the bundle on an angle and plate.
Drizzle coulis over fish and serve.
Ingredients
4 8 oz The Fresh Catch® trout filet, (cut from 1-3 lb Fresh Catch Trout portion trimmed.)
2 tsps. black pepper
4 10-inch pieces butcher twine
1 garlic, clove(s)
1 Tbsp. garlic, powder
8 kale, leaves, large
1 tsp. mustard, dijon
1 Tbsp. onion powder
2 Tbsps. paprika, smoked
7 leaves Peak Fresh Produce® Basil
1 cup Piancone® Oil, Olive, Extra Virgin
10 Roma® Olives, Kalamata
1/2 cup Roma® Tomatoes, Sun-Dried
1 Tbsp. vinegar, champagne