Mediterranean Power Salad
About this Recipe
A perfect pick for patrons on the go, this salad shines as a better-for-you lunch or dinner option. A tangy blood orange vinaigrette accents popular ingredients like quinoa pasta shells, garbanzo beans and turkey medallions. Keep it fresh and delicious by serving with fruit-infused water.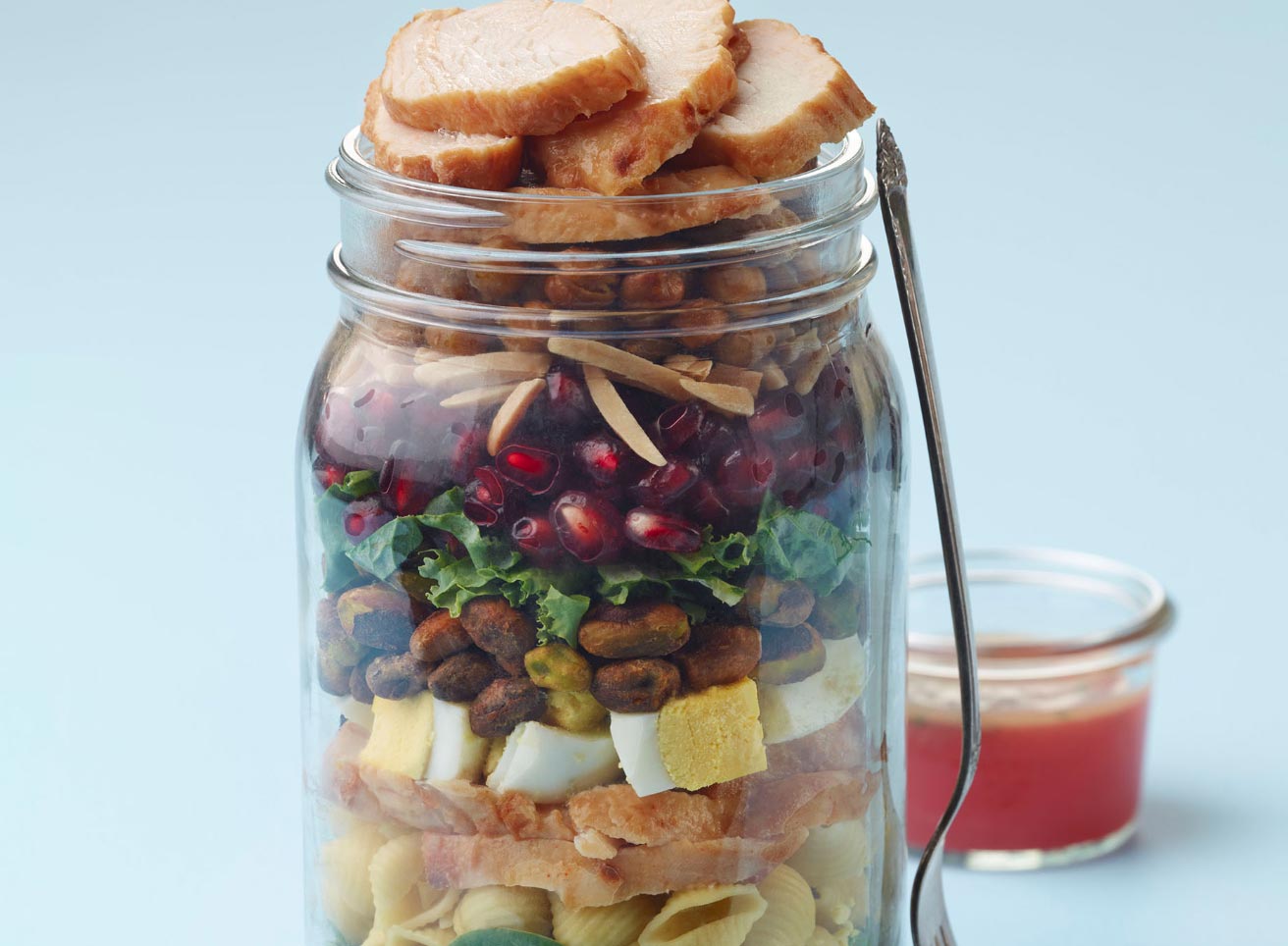 Mediterranean Power Salad
Directions
Combine all the ingredients (except toppings) in a bowl large enough to toss ingredients. Blend well.
Place the tossed ingredients into a salad bowl. Garnish the top of the salad with the hard-cooked egg, and then neatly arrange the turkey medallions on top of the salad.
Sprinkle with pomegranate seeds, and add blood orange segments. Serve.
Ingredients
2 oz almonds, slivered, toasted
1/3 cup Blood Orange Vinaigrette, (recipe below)
3 oz Butterball® Turkey Medallions, Sliced
1/3 cup garbanzo beans, crispy roasted
3 oz kale, cleaned, heavy stems removed
1/4 cup orange(s), blood, segments
1/4 cup pistachios
1/4 cup pomegranate seeds, fresh
1/2 cup quinoa pasta shells, cooked
2 oz spinach, fresh baby
1 West Creek® Egg(s), hard cooked and sliced
Blood Orange Vinaigrette
Directions
Blend together all the ingredients except for olive oil, mint and basil. Blend well.
Slowly whisk in the olive oil, and adjust salt and pepper to taste.
One hour prior to using, fold in the basil and mint.
Ingredients
3/4 cup blood orange juice
1/2 tsp black pepper, ground
2 tbsp honey
2 tbsp lemon juice
1 orange(s), blood, zest only
1 tbsp Peak Fresh Produce® Basil
1 tbsp Peak Fresh Produce® Mint
1 Peak Fresh Produce® Shallot(s), minced
3/4 cup Piancone® Oil, Olive
1 tbsp vinegar, white balsamic