Roasted Potato and Leek Soup
About this Recipe
This classic French soup has depth and complexity while being perfectly creamy thanks to the Chobani® Greek Yogurt that is incorporated.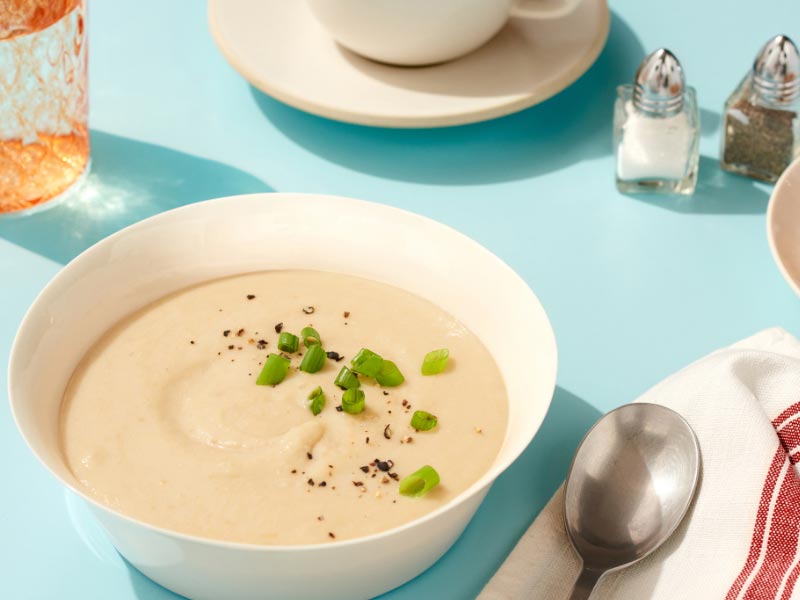 Roasted Potato and Leek Soup
Directions
Turn oven to 450ºF. Toss potatoes with extra virgin olive oil and roast potatoes until tender, about 15-20 minutes.
Place a large soup pot on low heat and melt butter. Add leeks and garlic, and cook over low heat for 10-15 minutes, or until leeks are soft and starting to caramelize. Turn heat to medium-high, add white wine and reduce to reduce until almost dry.
Make a sachet of bay leaf, thyme, garlic clove, and peppercorns with cheesecloth. Add vegetable stock, heavy cream, and the sachet. Continue to cook for 15 minutes. Add roasted potatoes and cook for 15 more minutes.
Remove sachet, place contents of the soup in a high-speed blender and purée until smooth. Add Chobani® Greek Yogurt and blend until incorporated. Serve as desired.
Ingredients
2 bay leaves
1/4 cup butter
1 1/2 cups Chobani® Whole Milk Plain Greek Yogurt
1 1/2 cups cream, heavy
1 quart leek(s), sliced, washed
1 tbsp oil, olive, extra virgin
2 tbsp Peak Fresh Produce® Garlic, minced
3 Peak Fresh Produce® Garlic, Clove(s)
2 cups Peak Fresh Produce® Potato(es), Russet, peeled, rough dice
1/4 tsp peppercorns, whole
1 sprig thyme, fresh
1 1/2 quart vegetable stock
1/2 cup wine, white