Weighing the pros and cons of delivery services
After six months of dealing with the global coronavirus pandemic, one thing is clear: This has changed the way restaurants are doing business. With customers increasingly turning to carryout and delivery, restaurants have found it necessary to reassess how they sell food.
Delivery apps like Uber Eats, Postmates, GrubHub, and DoorDash offer an aggregate delivery model, providing a multitude of options to consumers who want convenient, delicious food without ever leaving home. This can be a good choice for some operators, but it comes with a cost. Managing delivery in-house is another option, but with it comes increased risk and an upfront investment. Here, we take a look at the pros and cons of using third-party services or managing delivery in-house.
Pros of Third-Party Delivery Apps
Convenience
Delivery apps know exactly what they're doing, and they've made the experience extremely easy for consumers. That's why they're so popular. If your guests are looking for delivery to make their lives a little easier, then they are likely to choose the option that makes the process the smoothest, from online ordering to payment. Because these apps focus exclusively on this part of the process, they are able to create an experience that's intuitive and user-friendly.
Increased Exposure
Delivery apps have their own loyal followings and signing on with one of them can mean increased exposure for your brand. But take note: You will also be competing directly with the other brands that use that service in your area.
Lower Upfront Investment
Managing delivery in-house requires a hefty investment in vehicles, vehicle wrapping, liability insurance, uniforms, equipment (like insulated bags), and marketing materials. By outsourcing delivery, you eliminate those fees and swap them for the set-up fees and commission you pay to the provider.
Decreased Liability
When you partner with a third-party delivery app, they are taking on a portion of the liability and risk, insuring their own drivers and vehicles. However, though the service provider may be liable on paper, the restaurant still usually takes the blame and responsibility for any issues with service or food. If the food is messy or cold when it arrives, for example, the customer will often place the blame for it with the restaurant, not the delivery service.
Cons of Third-Party Delivery Apps
Lack of Control
By outsourcing this element of service, restaurants lose the ability to control each step in the process of getting food to the consumer. That can be difficult for brands that place a high value on ensuring a specific kind of experience for customers. Likewise, third-party apps determine their own delivery range, which means customers may be excluded from ordering from your restaurant based on their location.
Fees
Some operators find that the upfront fees and commissions eat away too much profit to make third-party delivery providers worthwhile. This comes down to making projections and doing a bit of math: It's important to analyze how much of an increase in business your restaurant will experience due to offering delivery through an app. If the increase in business is enough to offset the expenses, generally speaking, it makes sense. If the fees are prohibitive, a third-party delivery model may not be the best choice for your restaurant.
Disconnection from the Consumer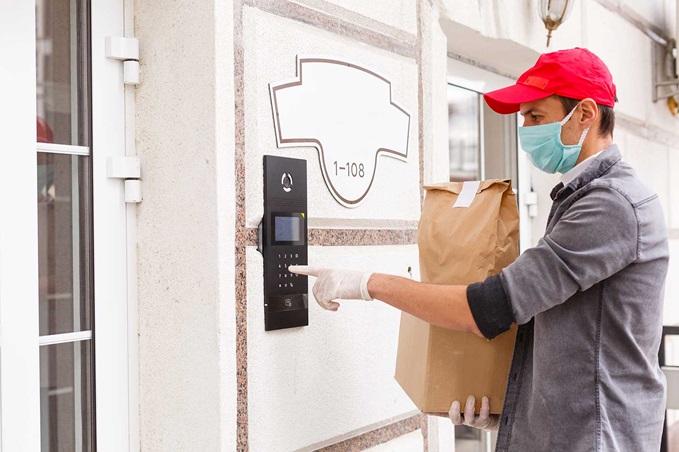 When a consumer orders delivery directly from your restaurant, you have the opportunity to connect and build a relationship. When that consumer orders delivery from an app, their primary relationship is with the app. Any contact information or data that can be gleaned from that experience belongs to the app, not to you.
Pros of In-House Delivery
Total Brand Experience
By managing your own delivery, you have an opportunity to control the complete brand experience for your customers. From placing an order to taking the bag of food from the driver, you have the ability to create a safe, memorable, pleasant experience that will make the customer want to repeat the process often. You will be the one to answer customer questions, ensuring a higher level of accuracy. You can also update offerings easily and quickly — something that can take extra steps if you use a third-party provider. And by connecting directly with the customer, you have the ability to follow-up with additional offers and incentives to order again.
No Commission or Start-Up Fees
Managing delivery in-house isn't free or even cheap. There are upfront costs that you will have to take on yourself. But one advantage is that these costs are investments in your own business, not money you have to pay to a provider on an ongoing basis. The profit you make from each sale will go directly to the restaurant, which can help to grow the business in other ways.
Hours and Tips for Staff
With servers, bussers, and dishwashers getting fewer hours on the floor in your restaurant, it may be worthwhile to offer these employees the opportunity to become delivery drivers, which may help keep them on your staff longer. There are employees who won't want or be able to make the change, but for those that do, an in-house delivery model can help them make up some of the money they've lost.
Cons of In-House Delivery
Strain on Staff
You may find that your staff is not well-suited to taking on delivery for a number of reasons. It's important to weigh that against your desire to manage the process in-house, and ask yourself if it's worth it to put additional stress on a workforce that is likely already feeling an immense amount of pressure. Adding delivery to your existing restaurant concept is a lot of work, and if it's not what your staff originally signed up for, they may be tempted to try to find work elsewhere.
Increased Liability
In addition to being legally and financially responsible for the vehicles and staff that make up your delivery team, you will also be solely responsible for any issues related to the delivery itself. If the driver isn't courteous or adhering to safety protocols or if the food isn't up to par, the customer will have no one to blame but the restaurant, as there will be no third-party scapegoat to point to. Your brand will bear all of the praise and any of the discontent that comes with your delivery service.
You Can Do Both
One thing to keep in mind is that, according to a report from the National Restaurant Association, 78% of U.S. delivery orders are placed through the restaurant itself, with the remainder placed through third-party services. If you want to capture the full 100%, it may be worthwhile to consider using a combination of your own in-house delivery as well as one or more of the third-party providers.