BLT Mega Turkey Burger
About this Recipe
Double the burgers, double the yum. Accented with chipotle mayo, this mega-sized burger is a delicious dinner or lunch solution. Serve with Mexican coleslaw or chipotle-dusted fries for a real kick in the taste buds.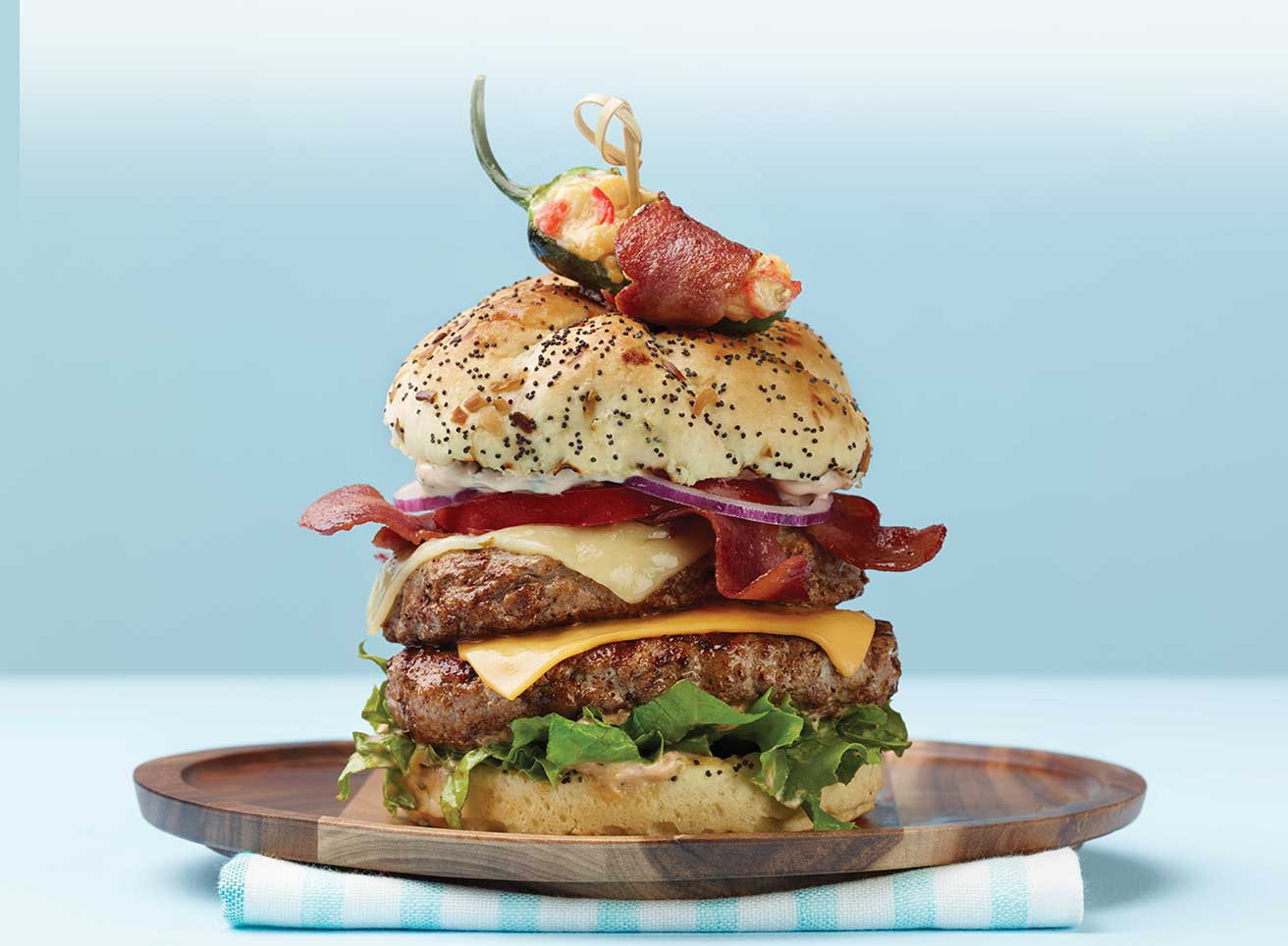 BLT Mega Turkey Burger
Directions
Combine mayonnaise, sour cream, chipotle, lime juice, salt, black pepper, and cilantro and blend well. Place into a covered container; label and date. Allow the sauce to marinate for at least 2 hours under refrigeration before using.
Top one cooked turkey burger with a slice of cheddar and the other turkey burger with a slice of jack cheese. Melt the cheeses over the burgers.
To build the burger, start with a toasted bottom roll and spread 1 tablespoon of Chipotle Mayonnaise on it. Add the shredded lettuce, sliced red onion and tomato slice.
Add the 2 turkey burgers with melted cheeses. Break the 2 slices of bacon in half and arrange them on top of the cheese. Spread 1 tablespoon of Chipotle Mayonnaise on the toasted top roll.
Top with jalapeño popper stuffed with Texas pimento beer cheese and wrapped in bacon. Skewer to hold in place.
Ingredients
2 slices Butterball® Turkey Bacon
1/4 tsp Roma® Black Pepper, Ground
1 slice cheese, cheddar
1 Contigo® Pepper(s), Chipotle in Adobo Sauce, chopped
1/3 cup Peak Fresh Produce® Cilantro, chopped
1 slice cheese, Monterey Jack
1 jalapeño popper
1 tbsp lime, juice
1/2 cup West Creek® Mayonnaise
3 rings Peak Fresh Produce® Onion(s), Red, 1/8-inch thick
1 roll, onion, buttered, toasted
1/4 tsp salt
1/4 cup Nature's Best Dairy® Sour Cream, All-Natural
1 slice Peak Fresh Produce® Tomato(es), 1/4-inch thick
2 Butterball® All Natural Turkey Thigh Burger, cooked