Mongolian Veal Chef Bio
About this Recipe
Marinated veal scaloppini topped with Asian mushrooms over Lo Mein noodles with a hint of sweet chili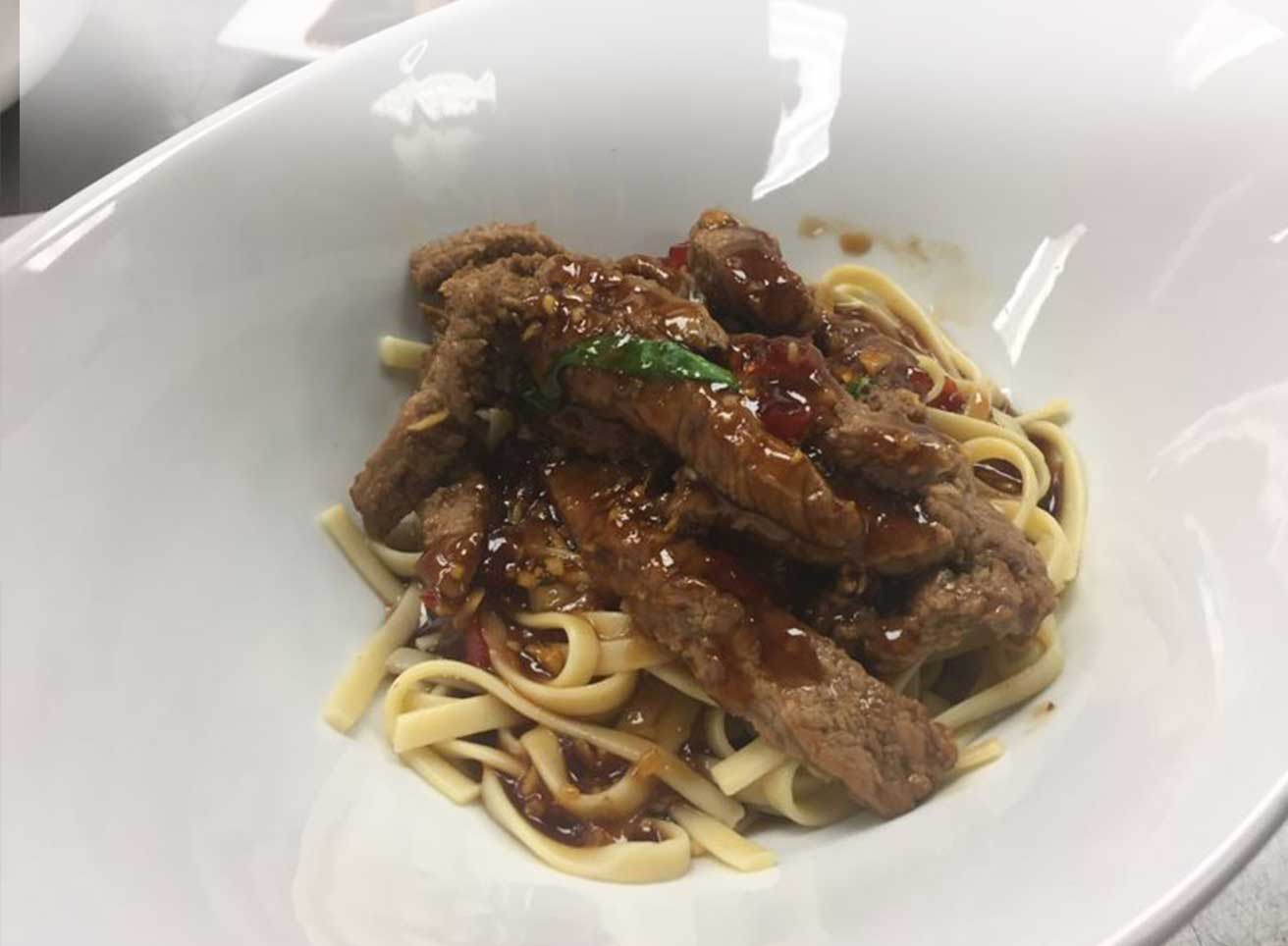 Mongolian Veal Chef Bio
Directions
Veal Marinade, Combined and stir all ingredients (Except Green Onion Shoots) into a bowl until corn starch is diluted.
Add veal and toss to make sure everything is evenly coated and let rest for a minimum of 20 minutes. In a medium wok or sauté pan over high heat add one table spoon of canola oil and tilt pan to distribute.
Once oil shimmers and before it starts to smoke add your drained beef and work vigorously to evenly cook, about one minute after beef has been in pan add the green onion shoots.
Once beef is almost cooked all the way through add the bowl of sauce and toss to evenly coat.
Let stand for two minutes and place over bowl of Asian Pride Lo Mein noodle (535698) mix with reconstituted Asian Pride Mushroom Blend (547393).
Ingredients
1 cup beef stock
1 tbsp corn starch
8 Epicurean Veal 4z oz Scaloppini, lightly pounded and cut into strips across the grain
1 tsp garlic
2 tsp onion(s), green, sliced (white parts only)
1/2 cup Green onion shoots, using green part, 2 inch long
1 tsp ginger, minced
1 tbsp rice wine vinegar
3 tbsp soy sauce
Mongolian Veal Sauce
Directions
Place all ingredients into small mixing bowl and combined until all is incorporated and reserve.
Ingredients
1 tbsp Asian Pride® Hoisin Sauce
1/4 cup Asian Pride® Sweet Chili Sauce
1/4 cup Asian Pride® Teriyaki Sauce
1 tbsp Roma® Ketchup
1 tsp minced garlic
1 tsp ginger, minced
1 tbsp rice wine vinegar
1 tsp sugar