Shrimp and Grits in Grits Bowls
About this Recipe
Shrimp and grits is the standard by which all grit dishes are measured. The key to this version is a hint of white wine.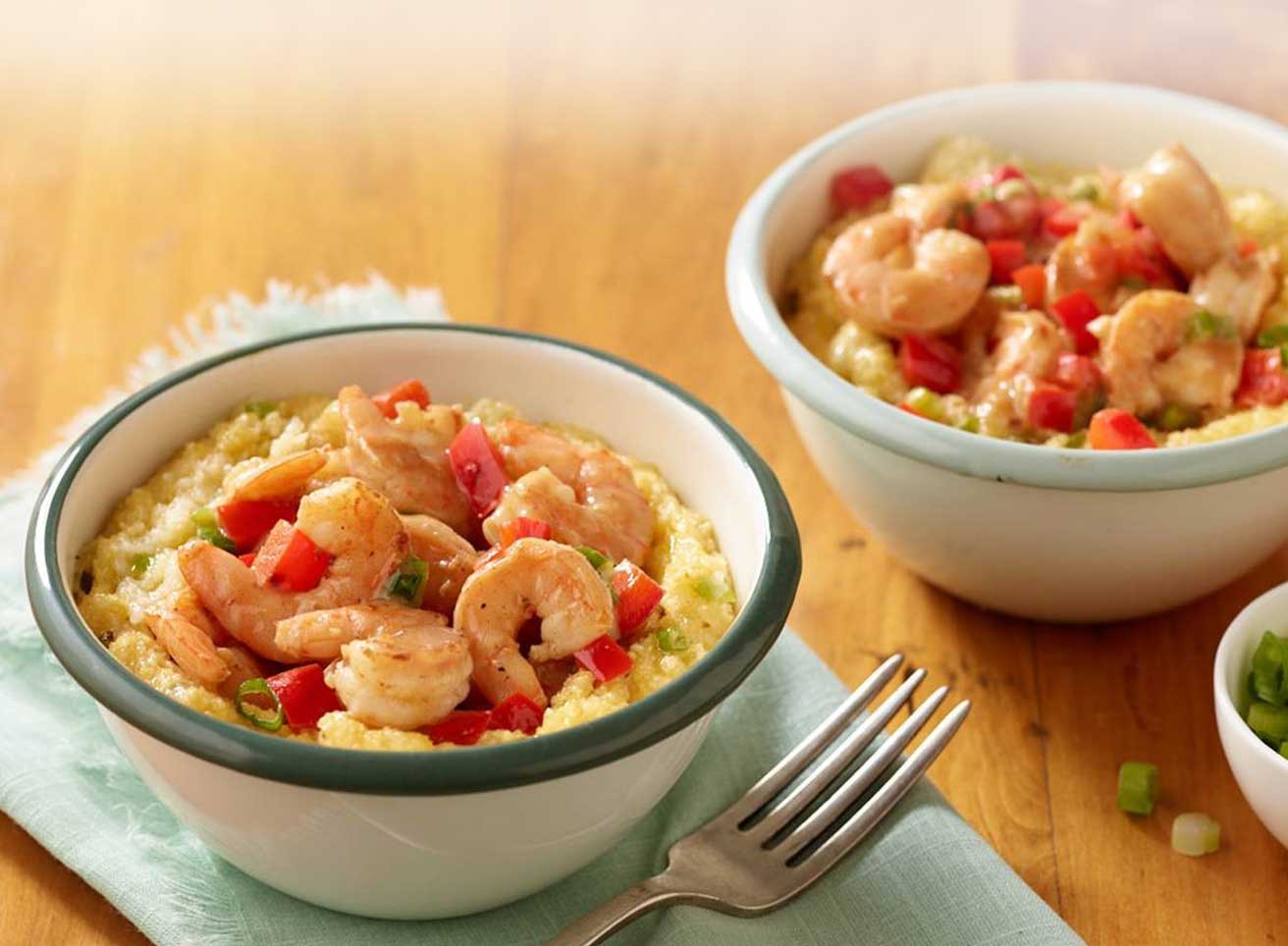 Shrimp and Grits in Grits Bowls
Directions
Preheat oven to 350° F.
Bring broth to briskly rolling boil in medium saucepan. Slowly stir in grits, half of garlic and salt, if desired.
Reduce heat to low; cover. Cook 15 to 20 minutes for Old Fashioned, 5 to 7 minutes for Quick or until thickened, stirring occasionally. Remove from heat.
Stir 1/4 cup green onions into grits. Press grits into bottom and up sides of 4 (2 cup capacity) ramekins or baking dishes sprayed with nonstick cooking spray. Place on baking sheet. Bake 15 minutes or until set and beginning to brown.
Meanwhile, heat butter in large nonstick skillet over medium heat. Add remaining garlic to skillet. Cook and stir 1 minute or until fragrant. Add shrimp. Cook about 3 minutes, stirring frequently, just until pink. Remove from skillet. Add bell pepper. Cook and stir 2 to 3 minutes or until crisp-tender. Increase heat to medium-high. Add wine; cook and stir to reduce slightly. Add 1/4 cup green onions. Return shrimp to skillet. Cook and stir 1 to 2 minutes to heat shrimp.
Spoon shrimp into grits "bowls." Sprinkle each with remaining 1/4 cup green onions.
Variation: Stir shredded extra-sharp Cheddar or other favorite cheese into cooked grits before pressing into bowls.
Bacon Variation: Cook 4 slices lower sodium bacon until crisp. Crumble. Add half of bacon to grits along with green onions. Sprinkle remaining bacon over each bowl.
Ingredients
1 cup Peak Fresh Produce® Pepper(s), Red Bell, diced
3 cups West Creek® Broth, Chicken
1 tbsp Nature's Best Dairy® Butter, Unsalted
2 cloves Peak Fresh Produce® Garlic, minced
3/4 cup Peak Fresh Produce® Onion(s), Green, thinly sliced
1 cup Quaker® Grits, Old Fashioned or Quick
1/4 tsp salt
1 lb Bay Winds® Shrimp, peeled and deveined
1 cup wine, white