Strawberry Jam Griller
About this Recipe
This sandwich takes a sweet twist on a classic favorite grilled sandwich. Serve it up for a dessert or as a decadent brunch option.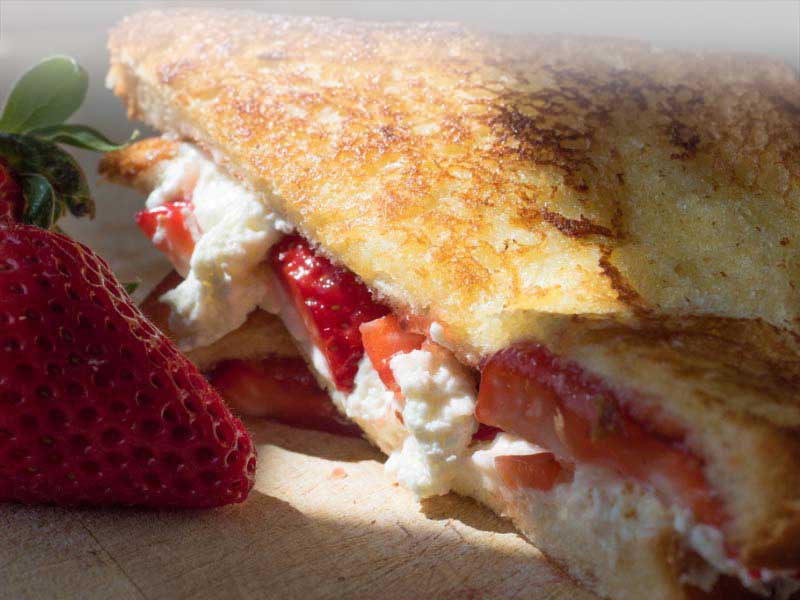 Strawberry Jam Griller
Directions
Butter 1 side of each bread slice. Spread mascarpone cheese on 4 of the other sides of the bread slices. Spread remaining 4 bread slices with strawberry jam.
Place sliced strawberries over mascarpone cheese covering surface. Close sandwiches, pressing cheese and preserve slices together, buttered-side-up.
Heat skillet to medium-low. Grill sandwiches until golden brown, flipping sandwiches as needed.
Dipping Sauce: Place chocolate chips and whipping cream in microwave-safe bowl.
Microwave the chocolate chips and cream 1 minute. Stir until combined. Serve alongside sandwich for dipping.
Ingredients
8 slices bread, Hawaiian
1 cup chocolate, chips, semisweet
1 1/3 cups jam, strawberry
4 Tbsp. Nature's Best Dairy® Butter, softened
6 Tbsp. Nature's Best Dairy® Cream, Heavy Whipping
1 cup Roma® Cheese, Mascarpone
1 pint strawberry, fresh pint(s), sliced