Teriyaki Sesame Salmon and Vegetable Fried Rice
About this Recipe
Get the best of land and sea, East and West with this combination of World Dock® Salmon, Ridgecrest® Bacon, Asian Pride® Soy Sauce and fresh veggies. Salmon is a fast dinner, highly nutritious, and certainly versatile enough to take on the tangy sweetness of the teriyaki and the bed of colorful fried rice. Enhance the presentation with julienned green onions, multi-colored sesame seeds, or even edible tropical flowers.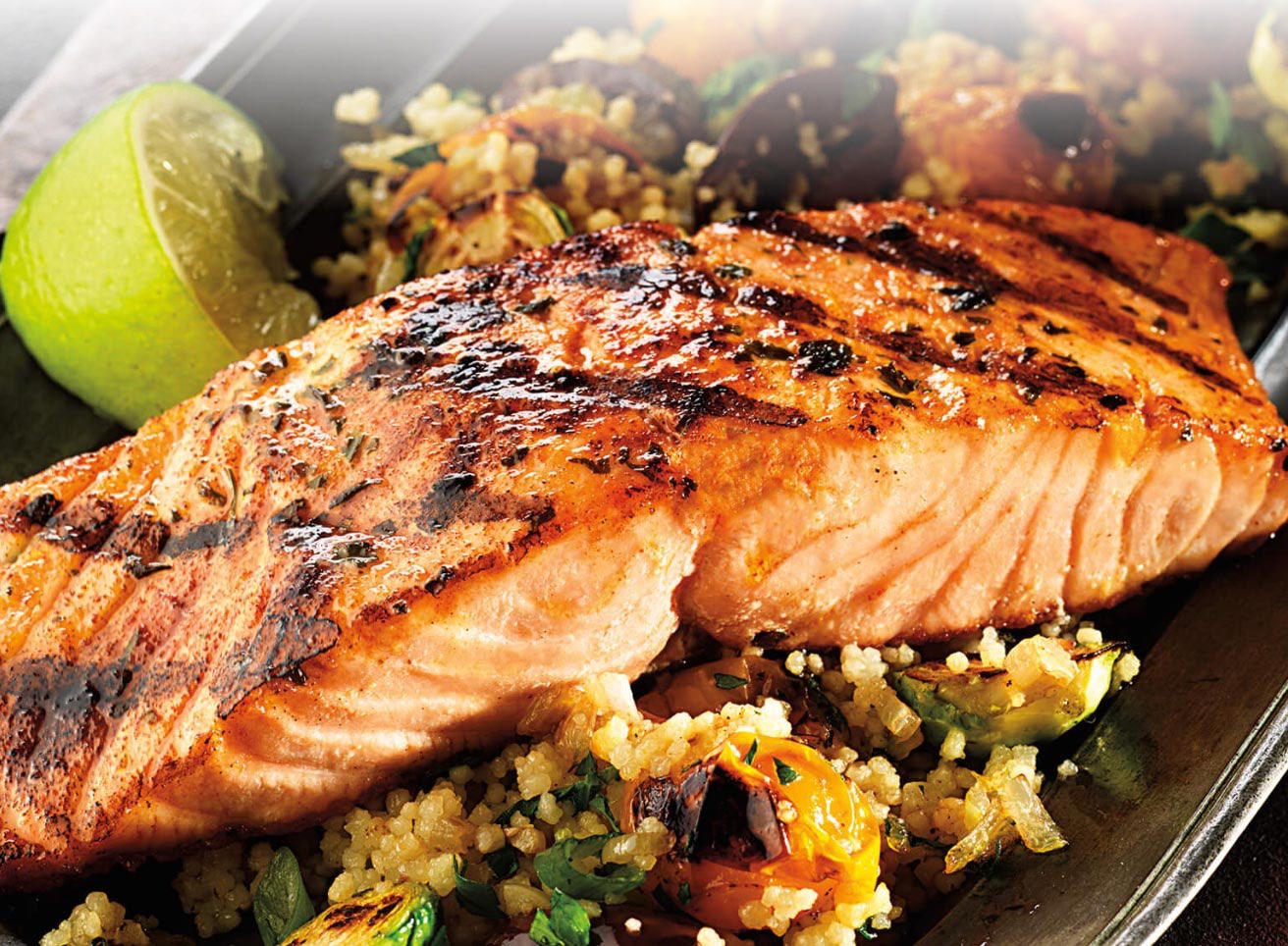 Teriyaki Sesame Salmon and Vegetable Fried Rice
Directions
Cook bacon in a large nonstick skillet or wok over medium-high heat until crispy.
Drain excess fat from the pan and push bacon to sides.
Add onion, carrots and celery and cook until softened about 2 minutes.
Stir in green onions, garlic and ginger and cook 3 minutes, taking care not to let the garlic brown.
Stir in peas and cook 2 minutes.
Transfer mixture to a medium bowl. Reduce heat to medium, add eggs, and scramble until fully cooked, 2 or 3 minutes.
Add eggs to bacon mixture.
Wipe out skillet, add vegetable oil, and return to medium-high heat.
When oil is hot add cooked rice in a thin even layer.
Cook until rice is heated and slightly crispy.
Stir in bacon-egg mixture.
Add soy sauce and top with green onions.
Meanwhile, follow the package instructions for the World Dock Chilean Salmon.
Serve fully cooked salmon atop portions of bacon and vegetable fried brown rice.
Ingredients
2 tbsp. Asian Pride® Soy Sauce
2 tbsp. Brilliance® Premium Oils Vegetable Oil
2 tbsp. ginger, fresh, minced
2 Nature's Best Dairy® Egg(s), beaten
1/2 cup Peak Fresh Produce® Carrot(s), minced
1/2 cup Peak Fresh Produce® Celery, minced
4 Peak Fresh Produce® Onion(s), Green, sliced thin
1/2 cup Peak Fresh Produce® Onion(s), White, minced
6 Ridgecrest® Bacon, Applewood Slice(s)
1 cup West Creek® Peas, Frozen
2 cups West Creek® Rice, Brown, Long-Grain Parboiled, prepared
4 World Dock® Salmon, Chilean Atlantic Fillet(s)