Tex-Mex Queso Dip
About this Recipe
This creamy dish is a spin on everyone's favorite Mexican queso dip filled with even more spice and peppers.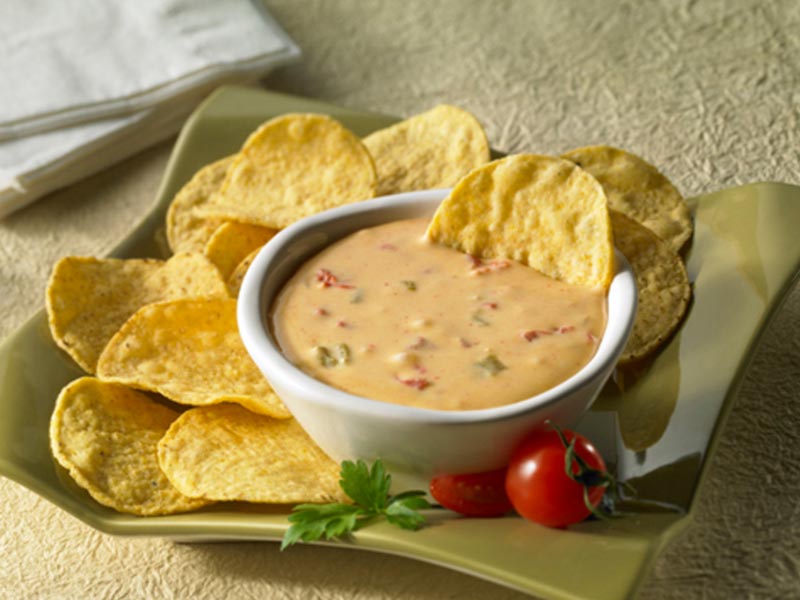 Tex-Mex Queso Dip
Directions
In saucepan, melt butter until sizzling. Sauté onion and garlic until softened; add chili powder and cumin. Stir in milk and cheese.
Cook over low heat, stirring occasionally, until cheese melts. Stir in remaining ingredients.
Serve with tortilla chips or flour tortillas.
Ingredients
1/4 cup Contigo® Pepper(s), Green Chili , chopped
1/2-1 bag Contigo® Tortilla Chips, (as needed)
1/2 tsp cumin, (ground)
1 tsp garlic, clove(s), (minced)
2 lb 8 oz Land O'Lakes® Extra Melt Process Cheese, (shredded)
2 Tbsps. Nature's Best Dairy® Butter
2 1/2 cups Nature's Best Dairy® Milk
2 tsp Peak Fresh Produce® Cilantro, Fresh, (chopped)
4 oz Peak Fresh Produce® Onion(s), (chopped)
2 tsp Roma® Chili Powder
1 lb Roma® Tomatoes, Canned, (drained),(chopped)
1/4 tsp West Creek® Hot Sauce
1/4 tsp white pepper, ground