Turkey Shawarma
About this Recipe
Cardamom and harissa give roasted turkey authentic shawarma flavor inspired by Middle Eastern cuisine. Wrap in a pita, drizzle with tzatziki, toss on some red cabbage slaw and pair with a cold beer for a mouthwatering happy hour must-have.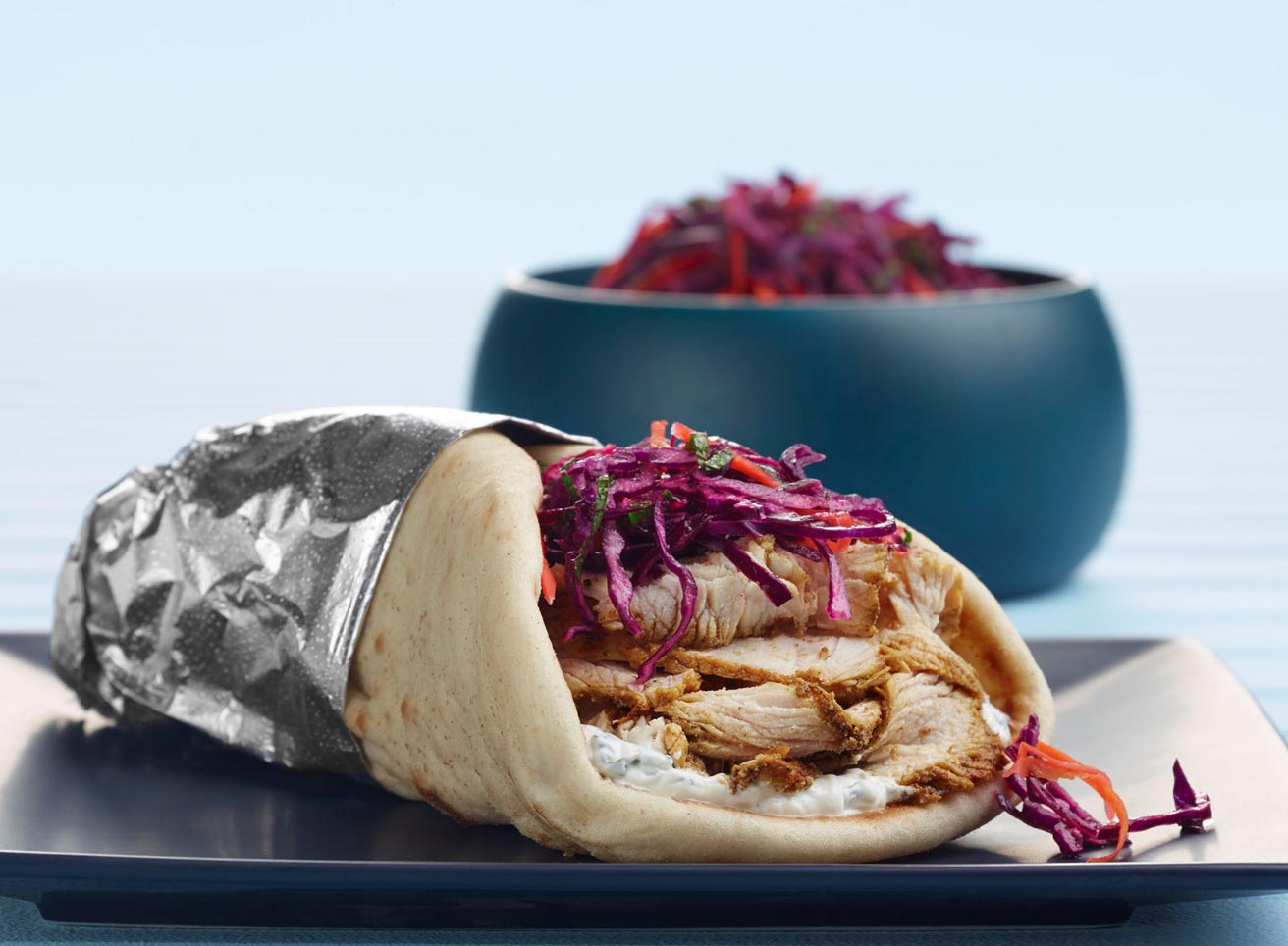 Turkey Shawarma
Directions
Combine all the ingredients for the marinade in a large stainless steel bowl or 4–6" half-size stainless steel hotel pan and blend well. Add the slices of turkey and blend well with the marinade. Marinate for 24 hours, stirring every 8–10 hours.
Preheat the grill (gas or charcoal) to medium-high heat.
Prep the grilling grid with a light coating of oil. Remove the turkey from the marinade and allow the excess marinade to drain. Grill the marinated turkey to a golden brown (there should be a few dark spots from grilling) on both sides. The internal temperature must be 165ºF. Rest for 5 minutes, and then thinly slice.
Serve on a warm pita with Tzatziki Sauce and Red Cabbage and Carrot Slaw (Recipes Below).
Ingredients
1/2 cup Ascend® Juice, Lemon
3 bay leaves , fresh
1/8 tsp cinnamon, ground, roasted
3 tbsp cumin, ground
2 tsp oregano
2 tbsp paprika 
1 1/2 tsp Burst™ Spices Turmeric, Ground
3 tbsp cardamom, ground
3 tbsp coriander, ground
1 tbsp harissa
3 tbsp lemon zest
4 tbsp Peak Fresh Produce® Garlic, Clove(s), minced
3/4 cup Piancone® Oil, Olive
1 tsp West Creek® Salt
Tzatziki Sauce
Directions
Place diced cucumber into a towel, squeeze dry and discard the water.
Combine all ingredients and blend well.
Place into a container with a lid and refrigerate.
Ingredients
4 oz Peak Fresh Produce® Cucumber(s), English, peeled and seeded, 1/4" diced
1 tbsp Peak Fresh Produce® Garlic, Clove(s), minced
1 lemon lemon zest
2 tbsp Peak Fresh Produce® Mint, finely chopped
1 tsp Piancone® Oil, Olive, Extra Virgin
2 tsp salt, kosher
1 tsp West Creek® Vinegar, Red Wine
16 oz yogurt, Greek, plain fat-free
Red Cabbage and Carrot Slaw
Directions
First, make the lemon vinaigrette.
In a stainless steel bowl, combine the lemon zest, lemon juice, sugar and salt. Whisk with a wire whip. Slowly whisk in the olive oil. Whisk in pepper and adjust the salt. Allow to stand 5 minutes before using.
Then, toss together 1/3 cup lemon vinaigrette, mint, red cabbage and carrots in a stainless steel bowl. Refrigerate for 10-20 minutes before serving.
Ingredients
2 tbsp Ascend® Juice, Lemon
3 cup cabbage, red, thinly shredded
1 tsp lemon zest
1/2 cup Peak Fresh Produce® Mint, roughly chopped
3 tbsp Piancone® Oil, Olive
to taste salt and pepper
1/2 tsp West Creek® Sugar, Granulated