Braveheart Black Angus Beef Canapés
About this Recipe
These delicious appetizers combine lightly grilled Braveheart Black Angus Beef with an indulgent blue-cheese-applewood-bacon spread and zesty herbal vinaigrette. Try them at your next catering event.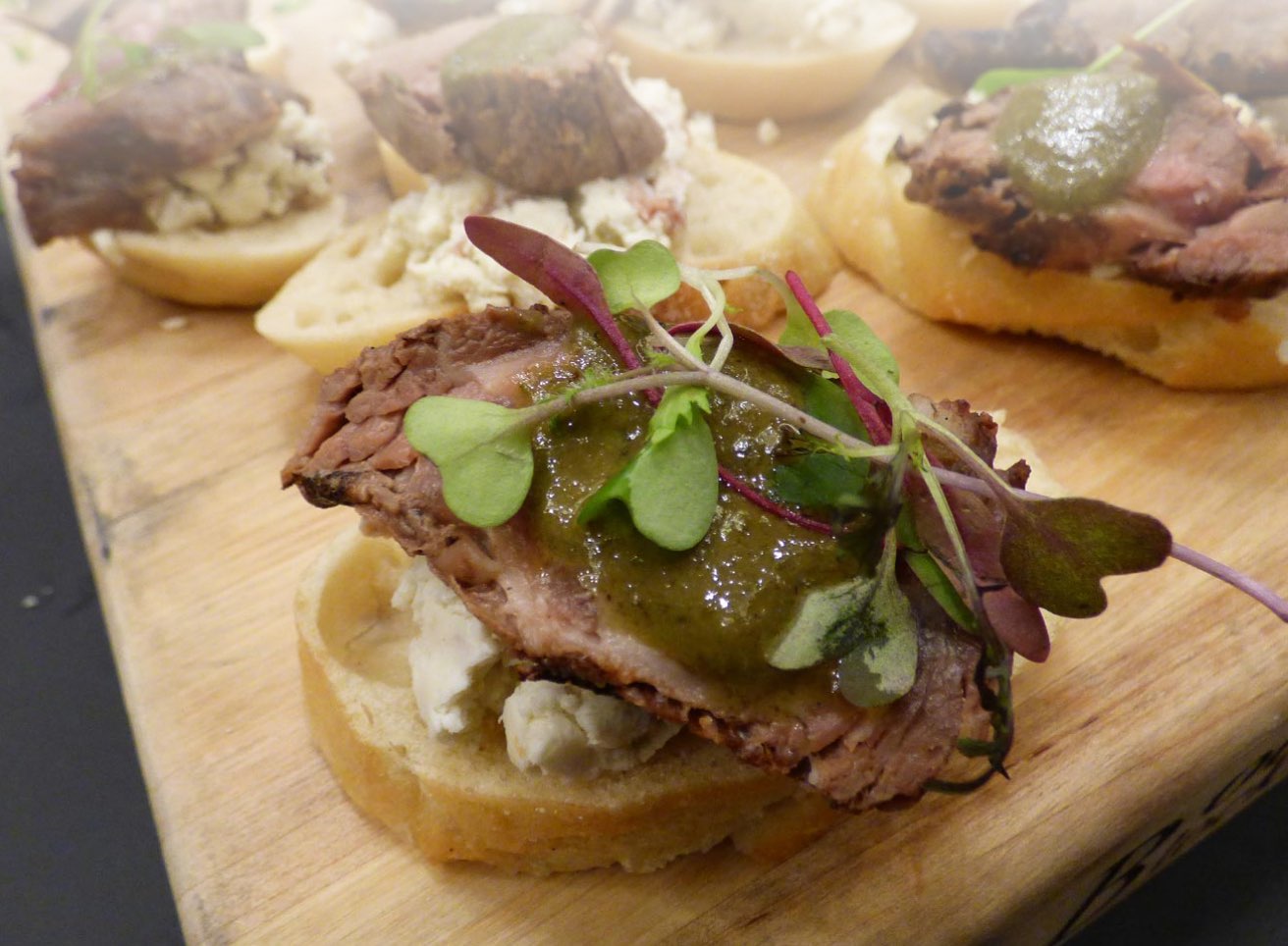 Braveheart Black Angus Beef Canapés
Directions
Spread Blue Cheese Applewood Smoked Bacon Spread (recipe below) on each toast point.
Rub the tenderloin with olive oil then sprinkle with grill mate. Grill until medium rare, then allow to rest for 5 minutes.
Slice tenderloin into 1-inch-by-1 ½ inch pieces.
Place a slice of tenderloin on top of each toast point. Drizzle the top with Herbal Vinaigrette (recipe below). Finish with micro greens, then serve.
Ingredients
1 1 lb Braveheart® Black Angus Beef Tenderloin, Roast
1 tsp McCormick® Grill Mates
1/2 cup microgreens
1 tsp Piancone® Oil, Olive
40 toast points
Blue Cheese Applewood Smoked Bacon Spread
Directions
Place all ingredients in a bowl and mix together. Refrigerate up to one week.
Ingredients
1 cup Ridgecrest® Bacon, Applewood Slice(s), cooked and chopped
1/4 lb cheese, blue
1/2 lb West Creek® Cream Cheese
Herbal Vinaigrette
Directions
In a blender or food processor add egg, vinegar, walnuts, garlic, basil, oregano and 1/4 cup oil. Puree this mixture.
While the machine is running, slowly add the remaining oil. Refrigerate for up to 1 week.
Ingredients
1/4 cup Piancone® Vinegar, Balsamic
1/2 cup Peak Fresh Produce® Basil
1 egg, yolk(s)
2 Peak Fresh Produce® Garlic, Clove(s)
1 1/2 cup Piancone® Oil, Olive, Extra Virgin
1/2 cup Peak Fresh Produce® Oregano
1/4 cup walnuts