Chicken Quinoa Kale Salad with Turmeric Vinaigrette
About this Recipe
For those with a soft spot for chicken tenders,this is the perfect recipe for those looking to spice up their serving of meat and veggies. Upon preparation for plating, your palate will be craving this winning combination of quinoa, baby kale, pulled chicken, cherry tomatoes and blue cheese.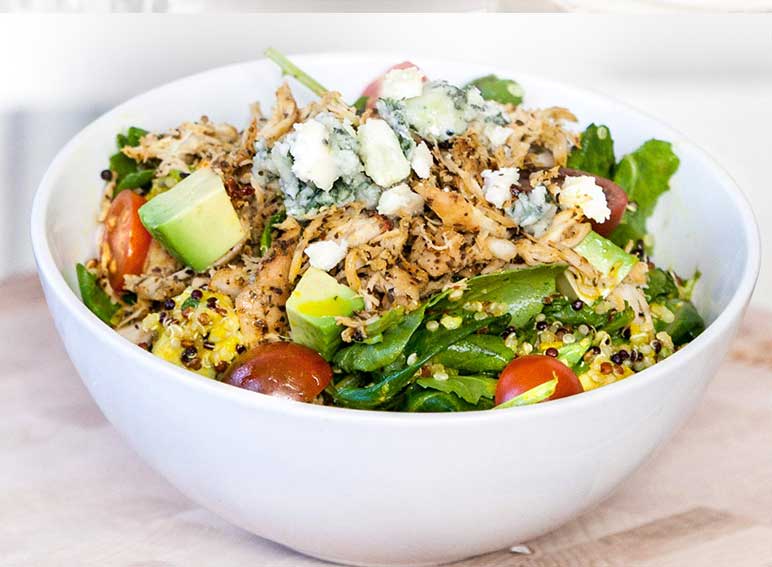 Chicken Quinoa Kale Salad with Turmeric Vinaigrette
Directions
Rinse the quinoa in a fine mesh colander under running water for at least 30 seconds.
Combine rinsed quinoa and water in a saucepan and bring to a boil over medium-high heat, then decrease the heat to maintain a gentle simmer. Cook quinoa until all the water has been absorbed. Remove the pot from the heat, cover and let quinoa steam for 5 minutes. Cool quinoa completely before using.
In a large mixing bowl place your quinoa, baby kale, pulled chicken, cherry tomatoes, blue cheese and mix. Once all ingredients are mixed well, add dressing and combine. Serve in 4 bowls.
Ingredients
1 1/2 cups kale, baby
2-3 oz cheese, blue, Roquefort
1/2 cup Peak Fresh Produce® Tomato(es), Cherry
1 cup quinoa
1/2 tsp salt, kosher
2 cups water
Roasted Chicken
Directions
Mix chicken tenders, vegetable seasoning and olive oil in a bowl.
Pre-heat oven to 400F.
Place chicken tenders on a roasting rack and transfer to the oven and cook until an internal temperature of 165F. Remove from the oven, cool and pull the chicken until shredded.
Ingredients
6 West Creek® Chicken, Tender(s)
1 tbsp Roma® Oil, Olive
6 tbsp McCormick® Grill Mates Vegetable Seasoning
Turmeric Vinaigrette
Directions
Mix olive oil, honey, lemon juice, lemon zest, turmeric and garlic in a large mixing bowl.
Adjust salt to your tasting.
Add diced avocado.
Ingredients
1/2 avocado avocado(s), diced
1 tbsp vinegar, champagne
1 Peak Fresh Produce® Garlic, Clove(s), finely minced
1 tbsp West Creek® Honey
1 Peak Fresh Produce® Lemon(s), zest and juice
1/4 cup Roma® Oil, Olive
1/2 tsp salt, kosher
1 tbsp McCormick Culinary® Turmeric