Grilled Chickpea Burger
About this Recipe
Give customers a burger that's the opposite of boring with a nutrient-rich chickpea patty. McCormick® Grill Mates® Mojito Lime Seasoning brings flavor to this health-filled meatless main any time of year.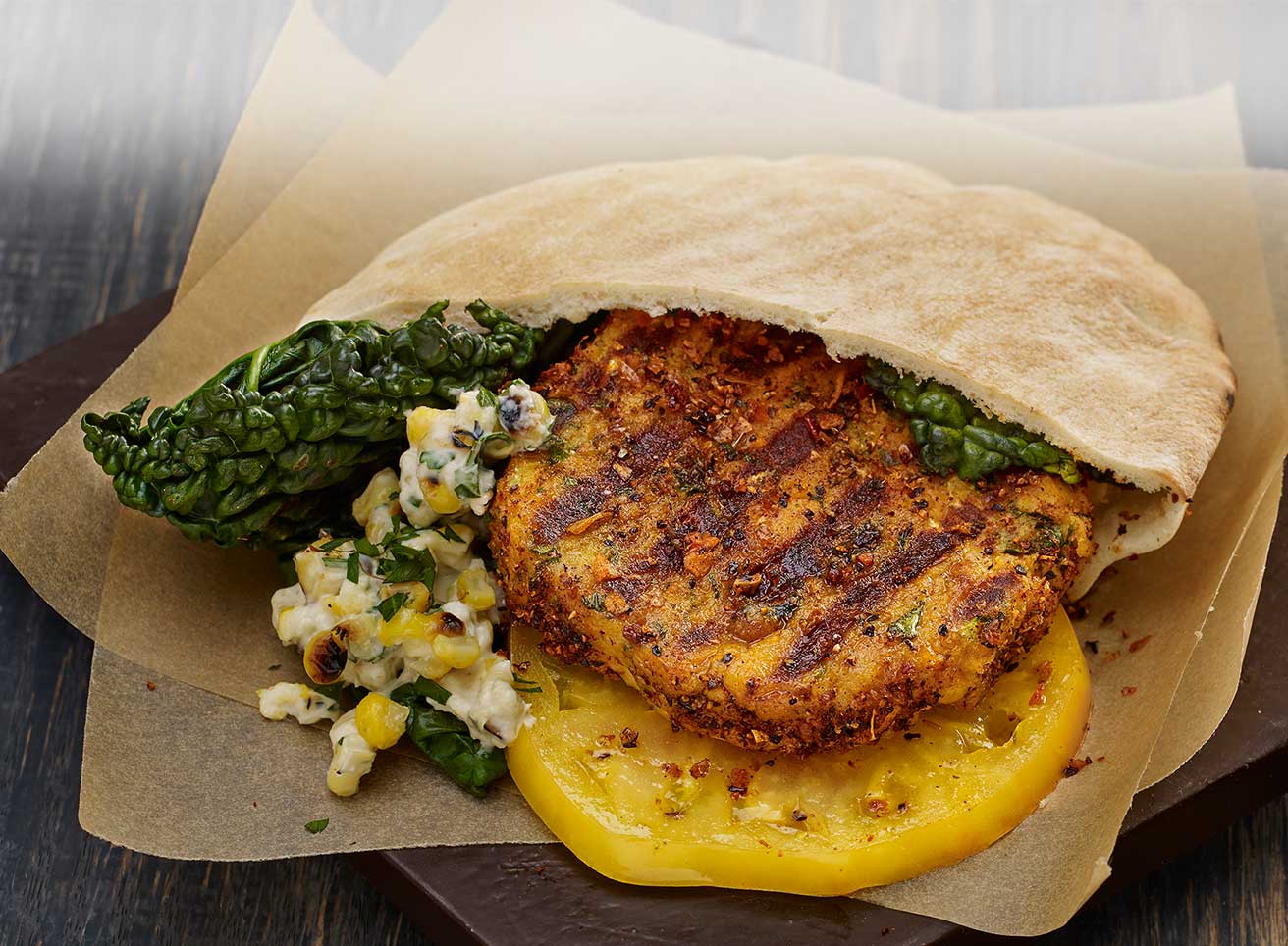 Grilled Chickpea Burger
Directions
Preheat oven to 400°F. Slice sweet potatoes in half lengthwise, and place cut side down on a foil lined sheet tray. Bake until fork tender, about 20 minutes.
Place oats, sweet potato and chickpeas in the bowl of a food processor; cover. Process until coarsely ground. Transfer to a large bowl.
Grate the zucchini and place in a cloth or paper towel to squeeze some of the liquid out. Add zucchini, cilantro, and 1 Tbsp Mojito Lime Seasoning to the chickpea burger mix; gently fold into the mixture. Form mix into 6 patties. Refrigerate 1 hour.
Brush both sides of chickpea patties lightly with oil. Mix remaining 1 Tbsp Mojito Lime Seasoning and brown sugar in small bowl. Coat surface of each patty evenly with the rub mixture. Grill chickpea burgers over medium-high heat about 3 minutes per side or until burgers are golden brown with grill marks and heated through. Grill kale leaves until slightly wilted.

Serve burgers in pita breads with grilled kale, tomato slices and grilled corn topping.
Ingredients
1 can chickpea (garbanzo beans), drained, rinsed
1/4 cup cilantro, fresh, picked, chopped
2 tablespoon Grill Mates® Mojito Lime Seasoning, divided
6 kale, leaves
1 cup quick cooking oats
1 tablespoon sugar, dark brown
1 sweet potato, meduim-size , (can substitute with Yam)
1 cup Zucchini, fresh, grated
Grilled Corn Topping
Directions
Grill corn over medium-high heat 10 minutes or until corn is tender and lightly charred, turning occasionally.
Cool slightly. Cut corn kernels off cob.
Mix corn kernels and remaining Corn Topping ingredients in medium bowl. Cover. (Set aside while finishing burgers.)
Ingredients
1 tbsp Peak Fresh Produce® Cilantro, chopped
2 ears Peak Fresh Produce® Corn , husked, silt removed
1 tbsp Ascend® Juice, Lime
1/4 cup West Creek® Mayonnaise
1/4 tsp McCormick Culinary® Cumin, Ground
1/4 tsp McCormick Culinary® Garlic Powder 
2 tbsp Contigo® Cheese, Queso Fresco Crumble