Oysters Oreganato and Sriracha Vinaigrette
About this Recipe
Oysters get all fired up in four easy steps, thanks to this amazing creation by Chef Michael Ledesma, Corporate Executive Chef of The Richmond Restaurant Group in Richmond, Virginia. Riced cauliflower and a spicy Sriracha dressing will bring your guests' taste buds out of their shell.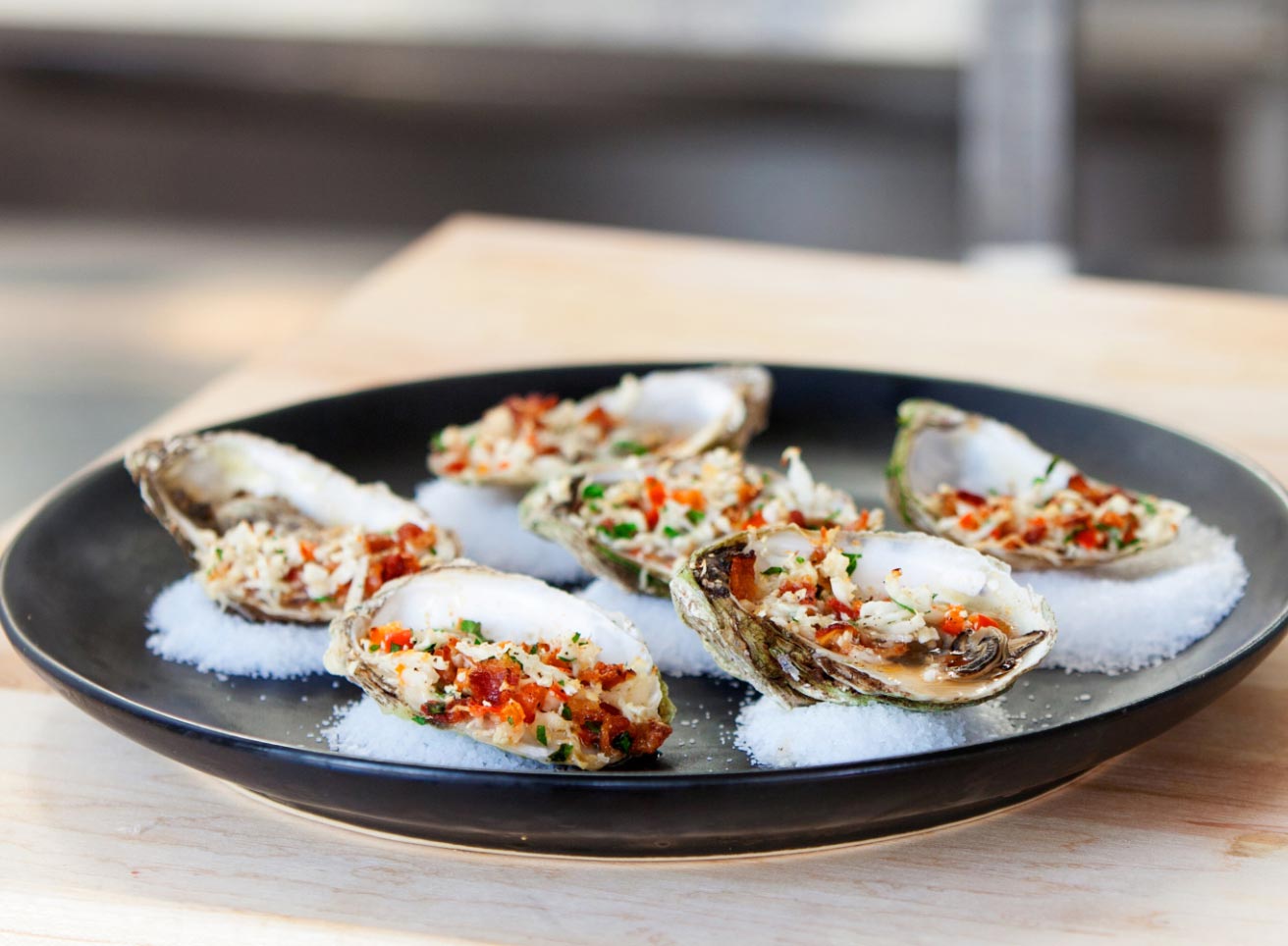 Oysters Oreganato and Sriracha Vinaigrette
Directions
Mix cauliflower, oregano, parmesan, bacon, red bell peppers, parsley, salt, and pepper together in a bowl.
Top freshly shucked oysters and roast on a baking sheet in a (preheated) 500F oven.
Ingredients
1 cup cauliflower, riced
1 tsp McCormick Culinary® Black Pepper, Table Grind, to taste
1/4 tsp McCormick Culinary® Oregano, Ground, Mediterranean Style
1/2 tsp McCormick Culinary® Gourmet Salt, to taste
24 oyster(s), shucked
3 tbsp Peak Fresh Produce® Pepper(s), Red Bell, brunoise
2 tbsp Ridgecrest® Bacon, Applewood Slice(s), cooked and finely chopped
3 tbsp Roma® Cheese Grated, Parmesan
Sriracha Vinaigrette
Directions
Blend the seasoning mix, honey, and vinegar until incorporated.
Increase the speed of the blender slowly and add the oil to emulsify the vinaigrette. Season with salt and pepper (to taste).
Drizzle Sriracha vinaigrette over oysters after removing from oven, before serving.
Ingredients
1 cup Asian Pride® Rice Vinegar
3 cups Brilliance® Premium Oils Vegetable Oil
1 tbsp Lawrys® Sriracha Wings Seasoning Mix
1/2 tsp McCormick Culinary® Black Pepper, Table Grind, to taste
1 tsp McCormick Culinary® Gourmet Salt, to taste
1 tbsp West Creek® Honey