Red Tea-Smoked Sea Bass
About this Recipe
A traditional Szechuan smoking technique, red tea infuses this sea bass dish with fragrant smokiness and a slight nutty flavor. And caramelizing the plums brings out their inherent sweetness and adds a robust note to the recipe.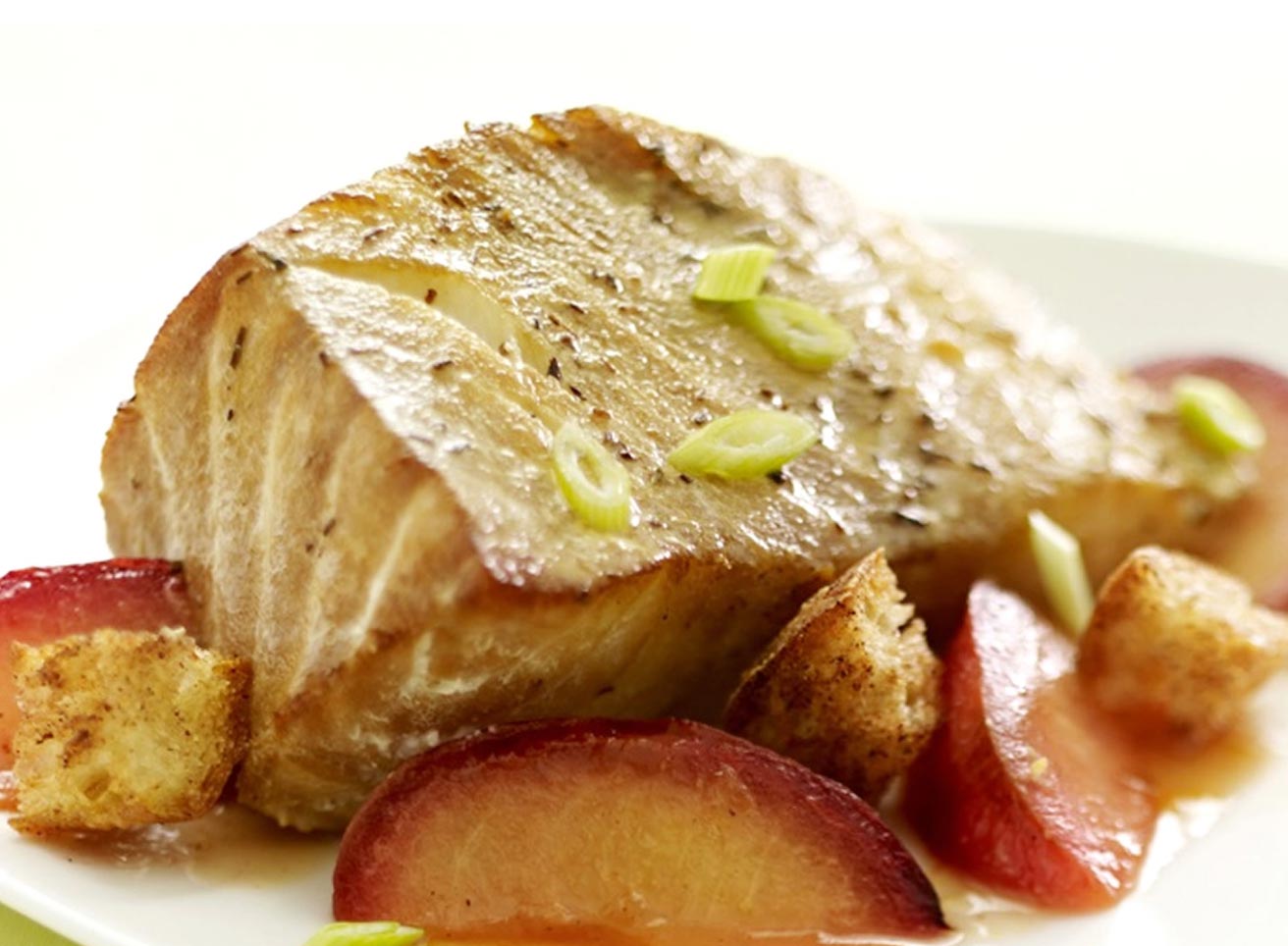 Red Tea-Smoked Sea Bass
Directions
For the Sea Bass, mix soy sauce, 1 1/2 tsp. of the red tea leaves, garlic and ginger in small bowl until well blended. Place sea bass in large non-reactive pan. Add marinade; turn to coat well. Refrigerate 30 minutes.
Line large roasting pan with foil. Mix remaining 2 Tbsp. red tea leaves, rice and sugar. Spread evenly in bottom of pan. Place a metal rack in pan. Place fish and marinade in disposable pie plate or in foil boat. Place pie plate on rack. Cover roasting pan tightly with foil. Bake on lowest rack in preheated 450°F (230°C, Gas Mark 8) oven 30 minutes or until fish flakes easily with fork.
Meanwhile, melt butter in medium sauté pan on medium heat. Add bread cubes and cinnamon sticks. Sprinkle bread with ground cinnamon; cook and stir 5 minutes or until bread cubes are toasted. Remove bread cubes, reserving cinnamon sticks in sauté pan . Add plums to sauté pan ; cook and stir until plums begin to caramelize. Add jam, water and juices in pie plate from cooked fish; cook and stir gently to glaze plums.
To serve, spoon glazed plums onto each of 4 plates. Top with croutons and sea bass. Sprinkle with green onion.
Chefs Tip: Red tea or rooibos tea comes from the South African red bush. It is reddish in color and is naturally sweet and slightly nutty. It is high in antioxidants and is caffeine-free.
Ingredients
1 cup bread, French loaf, 1/2 inch cubes
1 tsp. garlic, minced
2 Tbsp. jam, plum
1/2 tsp. McCormick Culinary® Cinnamon, Ground
2 McCormick Culinary® Cinnamon, Sticks
1 tsp. McCormick® Ginger, Ground
1 Tbsp. Nature's Best Dairy® Butter, Salted
1 Peak Fresh Produce® Onion(s), Green, thinly sliced on diagonal
2 cups plum(s), sliced
2 Tbsp. red tea (rooibos) leaves, + 1 1/2 tsp, divided
3 Tbsp. rice, long grain white, uncooked
4 6 oz. each sea bass, fillet(s), skinless
3 Tbsp. soy sauce, reduced sodium
2 Tbsp. sugar, dark brown
2 Tbsp. water