Thanksgiving Fiesta Taco
About this Recipe
Let diners enjoy their Thanksgiving favorites at any time of year. Transform traditional holiday flavors by fusing them with the heat of Mexican cuisine. Serve this taco as an appetizer or entrée with a crisp, clean cerveza.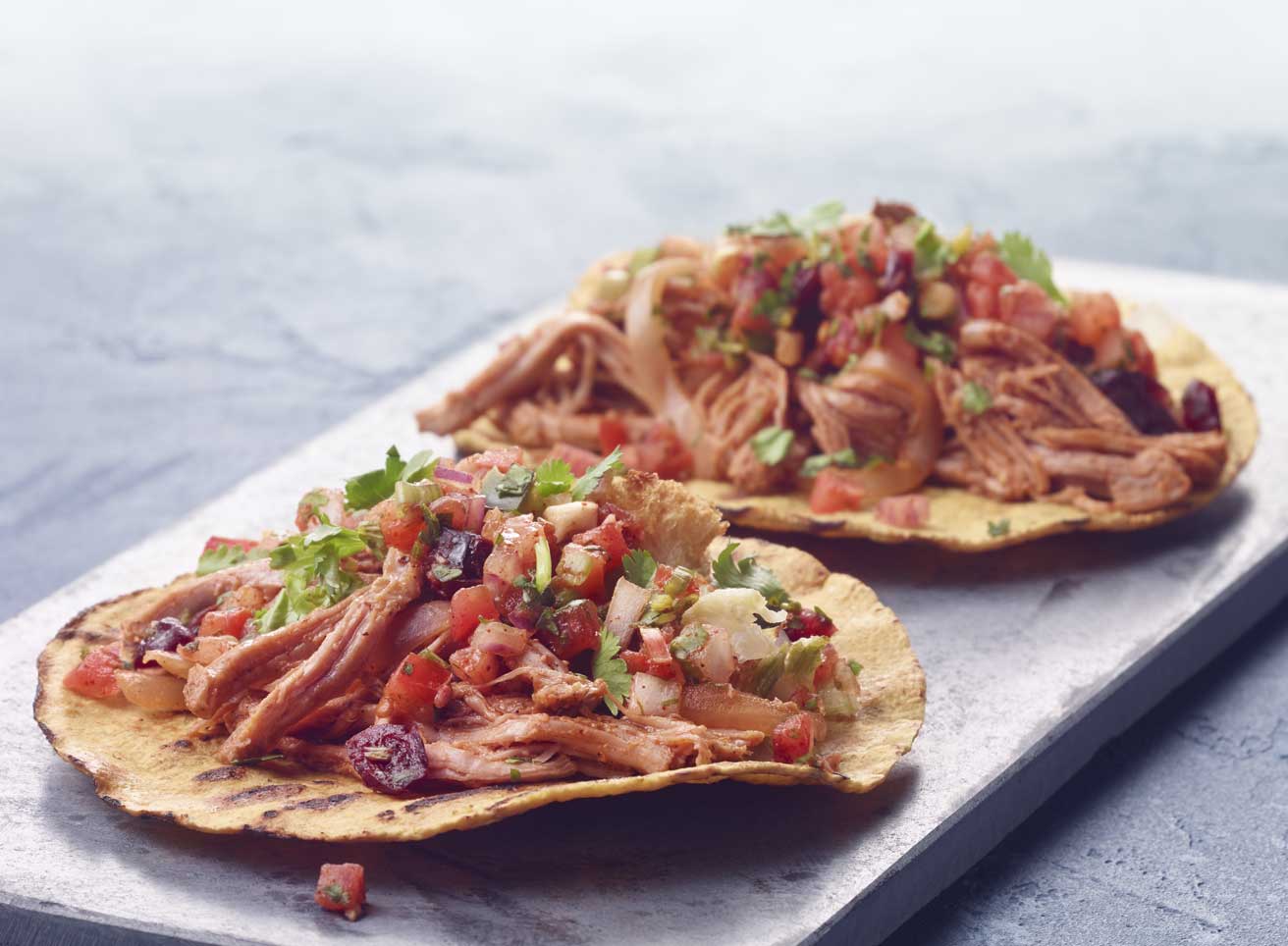 Thanksgiving Fiesta Taco
Directions
Heat the tortilla on a dry cast-iron skillet, 10 seconds for each side.
Place the crispy stuffing in the center of the tortilla.
Top with the Butterball Turkey Tinga. Top with the Cranberry Pico de Gallo. Sprinkle with the cilantro (optional).
Serve flat—the guest will fold it and eat it.
Ingredients
1/3 cup Butterball® Turkey Tinga
1 tbsp Peak Fresh Produce® Cilantro, chopped
1 tbsp Cranberry Pico de Gallo
2 tbsp stuffing, crisped in a skillet on both sides
1 Contigo® Tortilla(s), Flour
Butterball Turkey Tinga
Directions
In a blender, combine the fire-roasted tomatoes, chipotle in abodo, Mexican oregano, ¼ teaspoon of black pepper and turkey broth. Blend until smooth.
Heat the oil in a heavy-duty saucepan (10-inch diameter) over medium heat. Add the garlic and sauté until the aroma of the garlic fills the air, then immediately add the onions and sauté to a golden brown.
Slowly add the blended tomato mixture to the sautéed onions. Turn the heat to a low simmer and cook for 6–8 minutes.
Add the shredded turkey. Bring to a boil and then simmer for 12–15 minutes. The sauce will thicken and blend in with the turkey.
Add salt and adjust the black pepper as needed.
Place in a storage container and label, date and refrigerate.
Ingredients
3/4 cup turkey broth
3 tbsp Contigo® Pepper(s), Chipotle in Adobo Sauce, finely chopped
4 cloves Peak Fresh Produce® Garlic, minced
3 tbsp oil, canola
2 cups Peak Fresh Produce® Onion(s), sliced 1/8-inch thick
1 1/2 tsp oregano, Mexican
1/4 tsp black pepper, ground
salt and white pepper
14 oz tomato(es), fire roasted
1 1/2 lbs Butterball® Turkey Thigh Roast
Cranberry Pico De Gallo
Directions
Combine all the ingredients and blend well. Adjust the salt and black pepper, as needed.
Cover and marinate under refrigeration for at least 30 minutes before serving.
Ingredients
1 tbsp vinegar, balsamic
2 tsp chili powder
1 tsp Cholula Hot Sauce
1/2 bunch Peak Fresh Produce® Cilantro, finely chopped
1 cup Craisins
2 cloves Peak Fresh Produce® Garlic, minced
1 jalapeño(s), finely chopped
2 tbsp lime, juice
1 cup Peak Fresh Produce® Onion(s), Green, 1/4-inch dice
1/2 cup Peak Fresh Produce® Onion(s), Red, 1/4-inch dice
salt and pepper
5 tomato(es), plum, 1/4-inch dice