The Sunnyvale Benedict
About this Recipe
Serve The Sunnyvale Benedict as an indulgent breakfast or brunch option. With a crispy tostada, rich, and spicy hollandaise sauce, and savory turkey breakfast sausage. This combination of flavors and textures is a must-have for your morning menu.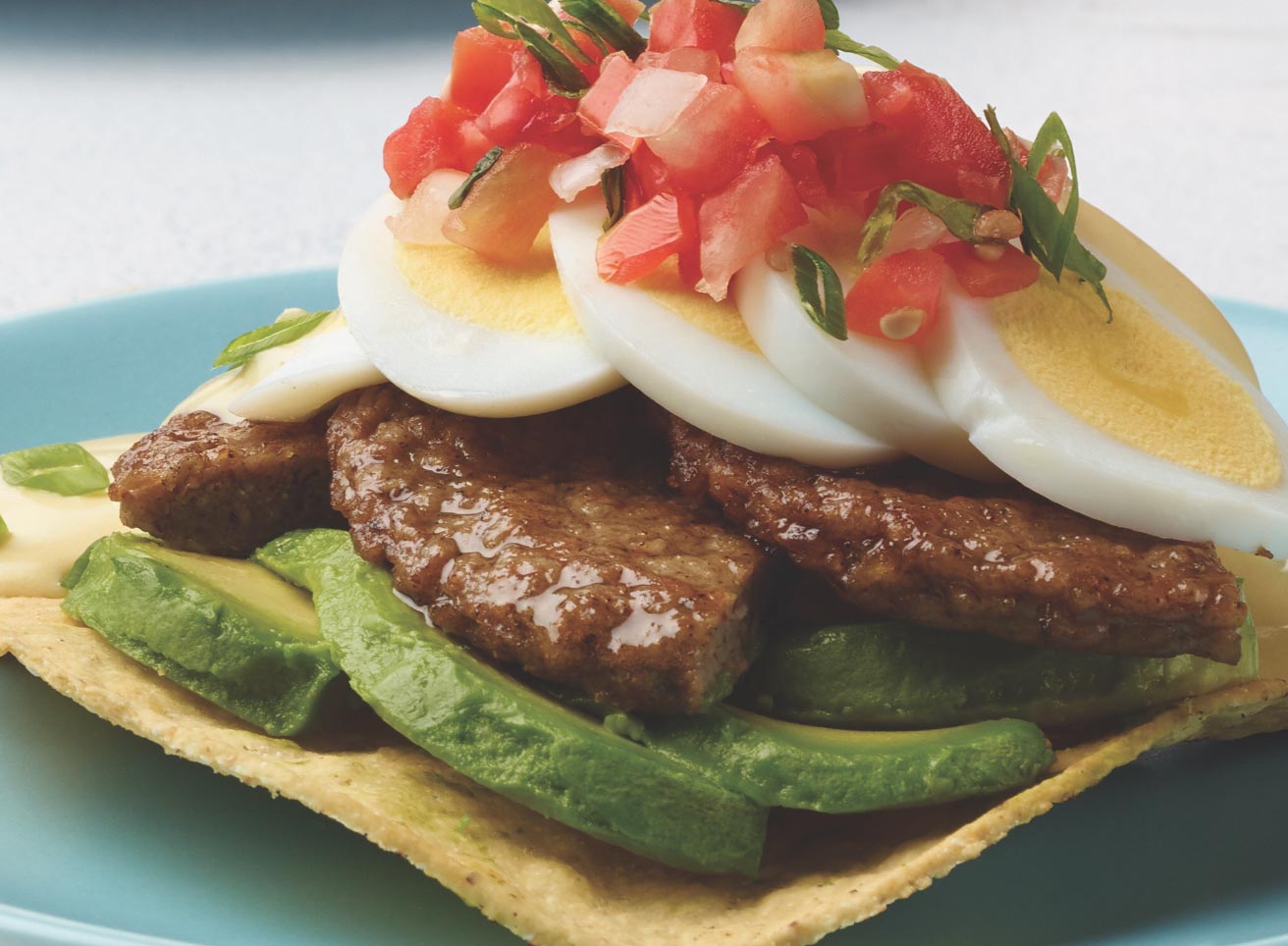 The Sunnyvale Benedict
Directions
Arrange the tostadas on a platter. Shingle 3 halves of sausage patties on each tostada.
Arrange 2 slices of avocado over the sausage patties on each tostada. Place a sliced egg on each pair of avocado slices. Top each egg with 2 ounces of Spicy Hollandaise and garnish with a sprinkle of bias-cut green onions.
Top with 2 ounces of pic de gallo.
Ingredients
5 Butterball® Fully-Cooked Turkey Sausage Patty(ies), grilled/hot (cut in half)
3 Nature's Best Dairy® Egg(s), hard-cooked/sliced
6 slices Peak Fresh Produce® Avocado(es)
3 tbsp Peak Fresh Produce® Onion(s), Green, bias cut thin
1 tbsp pico de gallo
6 oz Spicy Hollandaise
3 tostada(s), 4 in diameter
Spicy Hollandaise
Directions
In a small saucepan, melt the butter and hold it very hot (butter must be heated just prior to adding it to the blender).
Combine the water, chili powder, salt, and Cholula sauce and bring to a boil. Do not evaporate too much -- 1/2 cup of liquid must be maintained.
Combine the egg yolks and lime juice in a blender and blend for 2 seconds. With the lender on, slowly add the seasoned boiling water. Slowly add the hot, melted butter to the blending egg yolks and hot water. Add the black pepper and adjust the salt. Add the chopped jalapenos and chopped cilantro and blend for 3 seconds.
Hold in a double boiler over low to medium heat. Serve.
Ingredients
1 tsp chili powder
2 tsp Cholula Hot Sauce
1-2 jalapeño(s), chopped
2 1/2 tbsp lime(s), juice of
1/2 tsp McCormick Culinary® Black Pepper, Ground
1/2 tsp McCormick Culinary® Gourmet Salt
8 oz Nature's Best Dairy® Butter, unsalted
4 Nature's Best Dairy® Egg(s), yolks
1/4 cup Peak Fresh Produce® Cilantro, Fresh, chopped
1/2 cup water