Turkey Burger Fajita Salad
About this Recipe
This salad offers the delicious taste of a turkey burger in a better-for-you format. Peppers, avocado, habanero sauce and a salsa-flavored dressing bring a Mexican fusion twist to the mix.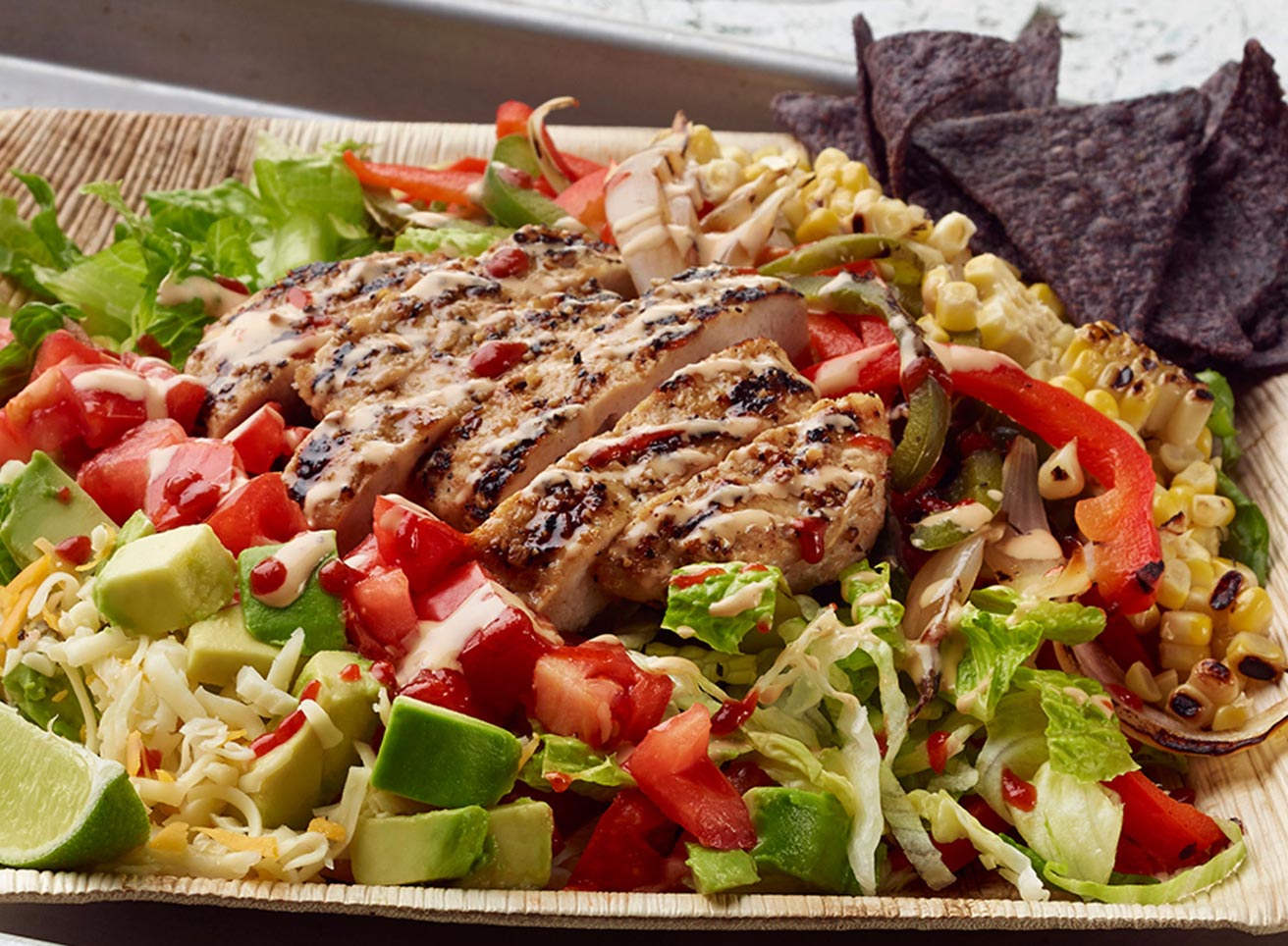 Turkey Burger Fajita Salad
Directions
Fill the bottom of the plate with shredded lettuce.
Grill the onions and peppers. Once they are cooked, combine them with the roasted corn kernels and hold on the side.
Prepare the grilled White Turkey Burger. Once it is cooked, cut the burger patty into half-inch slices.
Across the plate, portion out the ingredients as follows: jack and cheddar cheeses; diced avocado; diced tomato; burger patty slices; and a combination of corn, onion, and peppers.
Drizzle with Salsa Ranch Dressing and habanero hot sauce. Add chips and a lime. Serve.
Ingredients
1 tbsp hot pepper sauce, habanero
1 lime(s), wedge
1/3 cup Peak Fresh Produce® Avocado(es), diced
1/4 cup Peak Fresh Produce® Corn , roasted
5 oz Peak Fresh Produce® Lettuce, shredded iceburg and romaine
1/4 cup Peak Fresh Produce® Onion(s), julienned
1/4 cup Peak Fresh Produce® Pepper(s), Green Bell, julienned
1/4 cup Peak Fresh Produce® Pepper(s), Red, julienned
1/3 cup Peak Fresh Produce® Tomato(es), diced
3 oz salsa, salsa ranch dressing
10 tortilla chips, blue corn
1/3 cup West Creek® Cheese Shredded, Cheddar, jack-cheddar blend