BBQ Turkey Plate
About this Recipe
Add a taste of Southern flavor to your lunch or dinner menu. Tangy, sweetly spiced barbecue sauce enhances the turkey and creates an unforgettable taste experience. It tastes even better when it's served alongside a baked sweet potato with cinnamon butter and honey.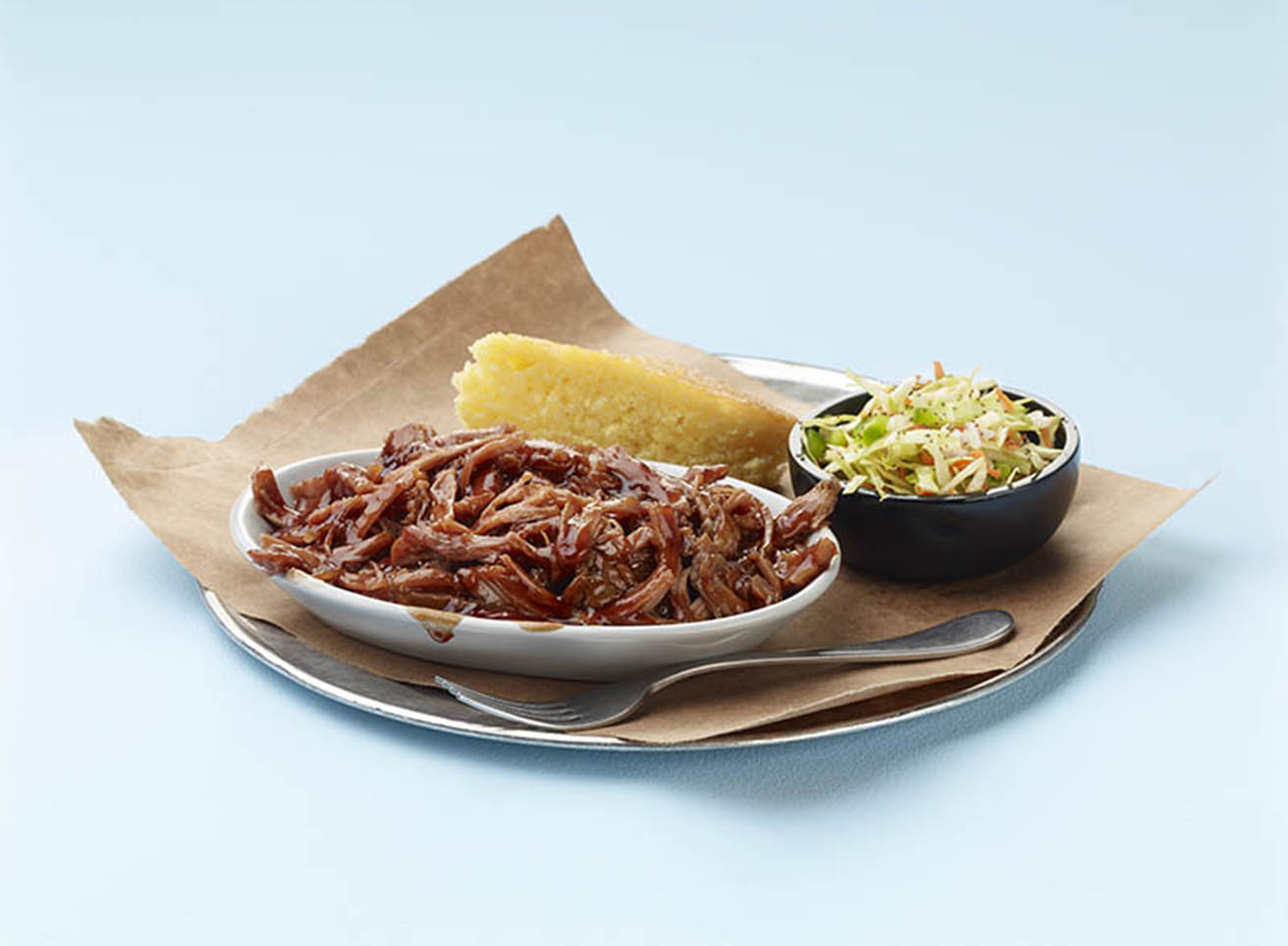 BBQ Turkey Plate
Directions
Combine the barbecue sauce, honey and apple cider and blend well in a small stainless steel bowl.
Place the shredded turkey in a large stainless steel bowl, then blend with the apple cider barbecue sauce.
Carefully cover the turkey with foil, ensuring the foil does not come into contact with the barbecue turkey (the sauce will have a reaction with the foil).
Bake for 30 minutes in a 350°F oven.
Place the turkey in a casserole on the serving line, 8 ounces per serving.
Serve on butcher paper on a tray with Carolina Coleslaw and a slice of 10-Inch Cast-Iron Cornbread on the side.
Ingredients
10 Slices 10 Inch Cast Iron Cornbread
3/4 cup apple cider
6 cups Carolina Coleslaw
1/4 cup honey
2 cups Sweet Baby Ray's® Barbecue Sauce
3 lbs Butterball® Turkey Thigh Roast, shredded
Carolina Coleslaw
Directions
In a large stainless steel bowl, combine the cabbage, green pepper, onion and carrot, and toss to blend well.
In a separate bowl, blend the sugar, salt, black pepper, mustard, celery seeds and apple cider vinegar.Allow the dressing to marinate for 15 minutes, then whisk in the oil.
Combine the dressing with the tossed vegetables. Blend well. Adjust the salt and pepper to taste. Refrigerate until needed.
Ingredients
1 cup vinegar, apple cider
1/2 tsp Black Pepper, freshly milled
36 oz Cabbage, Large head, finely shredded
2/3 cup oil, canola
6 oz Carrot, peeled, grated
1 tsp celery seed
1 tsp dry mustard
6 oz pepper(s), green, Small dice
1 tsp salt
1 cup sugar, granulated
4 oz Vidalia Onion, Small Dice
10-Inch Cast-Iron Cornbread
Directions
Combine all the ingredients in a mixing bowl, but use only ½ cup of vegetable oil.
Preheat an oven to 375°F. Coat a 10-inch cast-iron skillet with 2 tablespoons of oil and heat the skillet in the oven until hot, approximately 3–5 minutes.
Pour the batter into the hot skillet.
Bake the batter in the oven for 30 minutes.
Ingredients
1 1/2 cups Buttermilk
4 egg(s)
3 tbsp honey
2 1/4 cups cornmeal, Self-rising
3/4 cup flour, self-rising
3/4 cup sour cream
5/8 cup oil, vegetable