Steak-Stuffed Portobello with Poblano Sauce
About this Recipe
Stuffed mushrooms come alive with grilled steak and a Mexican cream sauce made with fresh roasted chilies. Excellent appetizers, or entire entrées by themselves, these 'bellos offer succulent meatiness held together with melty cheese and a flavorful creamy sauce forks will be sliding every last bite through. Consider alternatively pairing with charred chipotle sauce, roasted cherry tomatoes, or sprinkled with charred corn bits.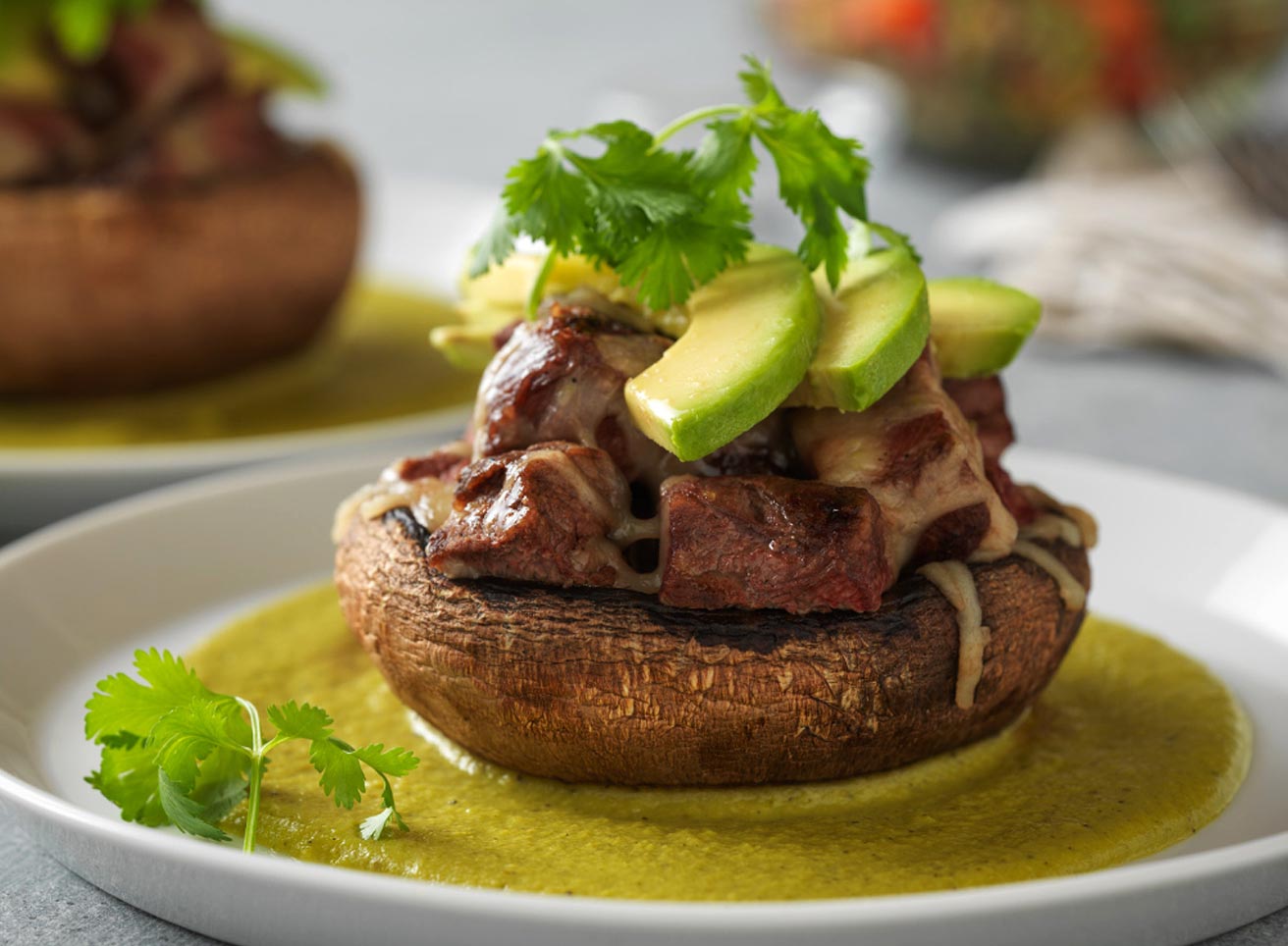 Steak-Stuffed Portobello with Poblano Sauce
Directions
Place poblano peppers and onion slices on grid over medium, ash-covered coals.
Grill, covered, 15 to 20 minutes or until onion is tender and pepper skins are blackened, turning occasionally.
Place peppers in food-safe plastic bag; close bag. Set peppers and onion aside to cool. Preheat oven to 350°F.
Coat each mushroom cap with cooking spray and place on aluminum foil-lined shallow-rimmed baking pan.
Bake mushrooms in 350°F oven 15 to 17 minutes or until mushrooms are fork tender.
Remove and discard skins, stems and seeds from peppers.
Chop peppers and onion.
Heat oil in small sauce pan over medium heat. Add poblanos peppers, onion and garlic; cook 2 to 3 minutes, stirring occasionally.
Stir in cream; bring to a boil. Remove from heat; set aside.
Season steaks with 1/2 teaspoon salt and 1/2 teaspoon black pepper.Grill, covered, 10 to 16 minutes for medium rare (145°F) to medium (160°F).
Increase oven temperature to 400°F.
Carve steaks into 1-inch strips. Cut strips into 1-inch cubes.
Combine steak and cheese in medium bowl, mixing gently but thoroughly.
Evenly divide beef mixture among prepared mushroom caps, mounding as needed.
Bake mushrooms in 400°F oven 10 to 15 minutes or until cheese is melted.
Meanwhile, place Poblano mixture in blender container; add 1/4 cup cilantro, lime juice, remaining 1/2 teaspoon salt and remaining 1/2 teaspoon black pepper.
Cover; process until smooth.
Divide sauce evenly among 4 plates; top sauce with steak-stuffed mushroom.
Garnish with avocado slices and remaining 1/4 cup cilantro, if desired.
Ingredients
1 tbsp. Ascend® Juice, Lime
2 beef, Denver steak(s), about 8 ounces each
1 tsp. black pepper, whole , freshly ground, divided
1/4 cup Nature's Best Dairy® Cream, Heavy
1/4 cup Peak Fresh Produce® Cilantro
2 tsp. Peak Fresh Produce® Garlic, minced
4 large Peak Fresh Produce® Mushroom(s), Portobello
1 Peak Fresh Produce® Onion(s), Yellow, cut into 1/2 inch slices
2 pepper(s), poblano
2 tsp. Roma® Oil, Olive
1 tsp. salt, kosher , divided
3/4 cup Saluté® Cheese, Mozzarella, Shredded