The "Zin is In" Bone-In Strip Steak
About this Recipe
This tender bone-in strip steak features a zesty zinfandel sauce. Serve it up with savory and sweet corn pudding and broccolini.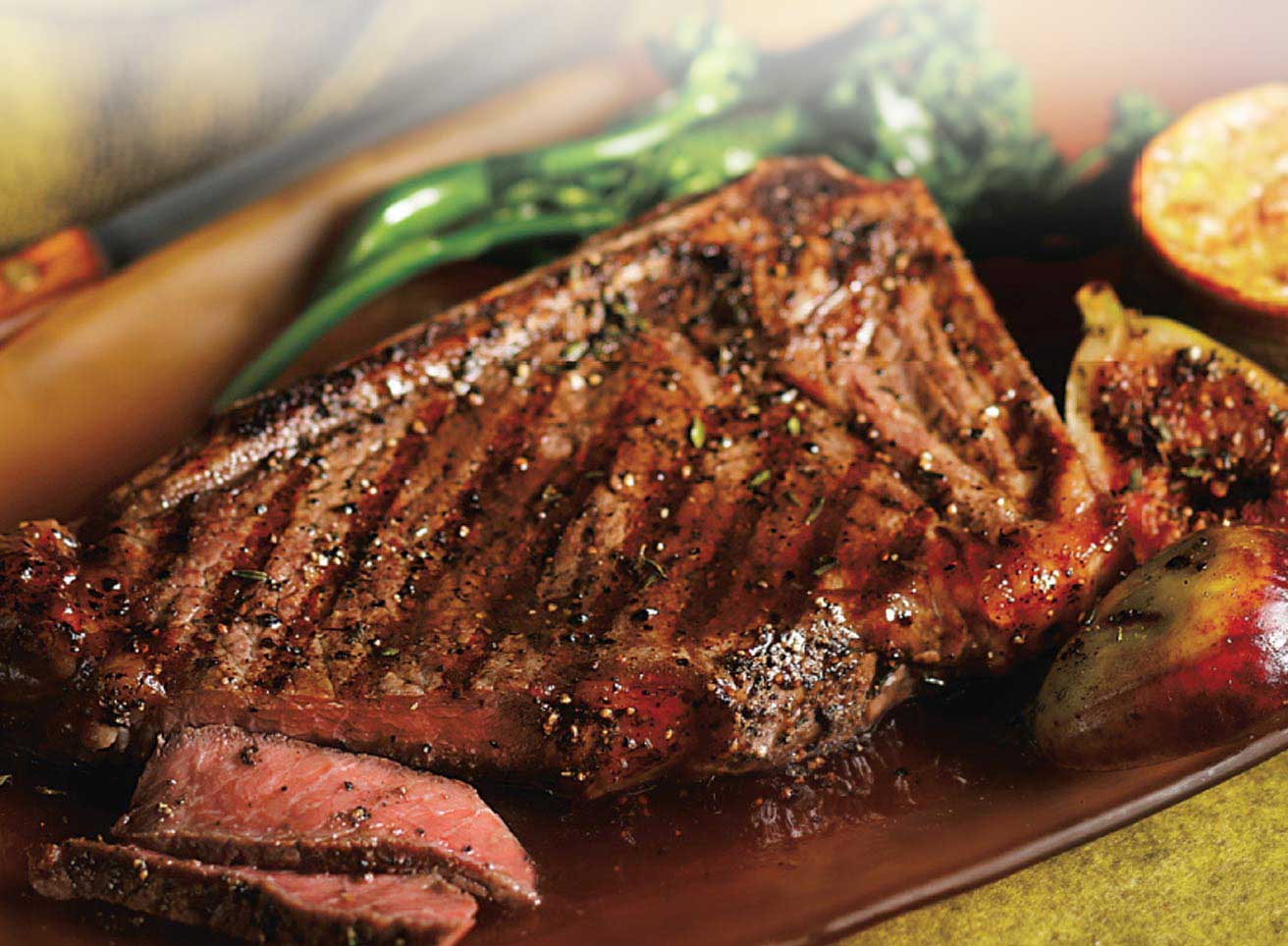 The "Zin is In" Bone-In Strip Steak
Directions
Zinfandel Sauce: In large nonreactive saucepan, sauté bacon until it starts to brown. Add sliced shallots and sauté until shallots are soft and golden. Add wine, thyme sprigs and crushed black peppercorns; simmer until wine is reduced to a syrup. Add demi-glace and sugar; simmer 5 minutes more. Strain; season with salt and pepper. (Yield: 6 cups)
Corn Pudding: Grate 6 ears of corn on large holes of grater into a bowl. Cut kernels from 2 more ears of corn; add kernels to grated corn. Season with salt and white pepper. Divide mixture among 24 ovenproof ramekins; dot with butter. Bake in 425°F oven about 20 minutes or until set and golden on top. (Yield: 24 puddings)
Season 1 (12-oz.) bone-in Strip Steak with salt and pepper. Grill to desired doneness. Cut 3 fresh figs in half; brush with olive oil and grill until lightly marked.
Arrange steak on plate with 1 ramekin Corn Pudding and sautéed broccolini. Spoon 1/4 cup Zinfandel Sauce over steak; garnish with grilled figs.
Ingredients
1 1/2 Lbs. bacon, slice(s), smoked thick-cut
24 12 oz. Braveheart® Black Angus Beef Steak(s), Strip, bone in
8 ears corn
6 cups demi glaze
72 fig(s), fresh
4 Tbsp. Nature's Best Dairy® Butter
2 1/4 Lbs. Peak Fresh Produce® Shallot(s), sliced
2 Tbsp. peppercorns, whole, crushed
- salt and pepper, to taste
1/4 cup sugar, granulated
1 bunch thyme, fresh, sprigs
12 cups wine, red zinfandel