Turkey Quinoa Breakfast Bowl
About this Recipe
Honey maple turkey breast and red and white quinoa deliver extra protein to make a powerhouse bowl. This nutrient-rich offering combines easy portability and endless customization while meeting demand for healthy options.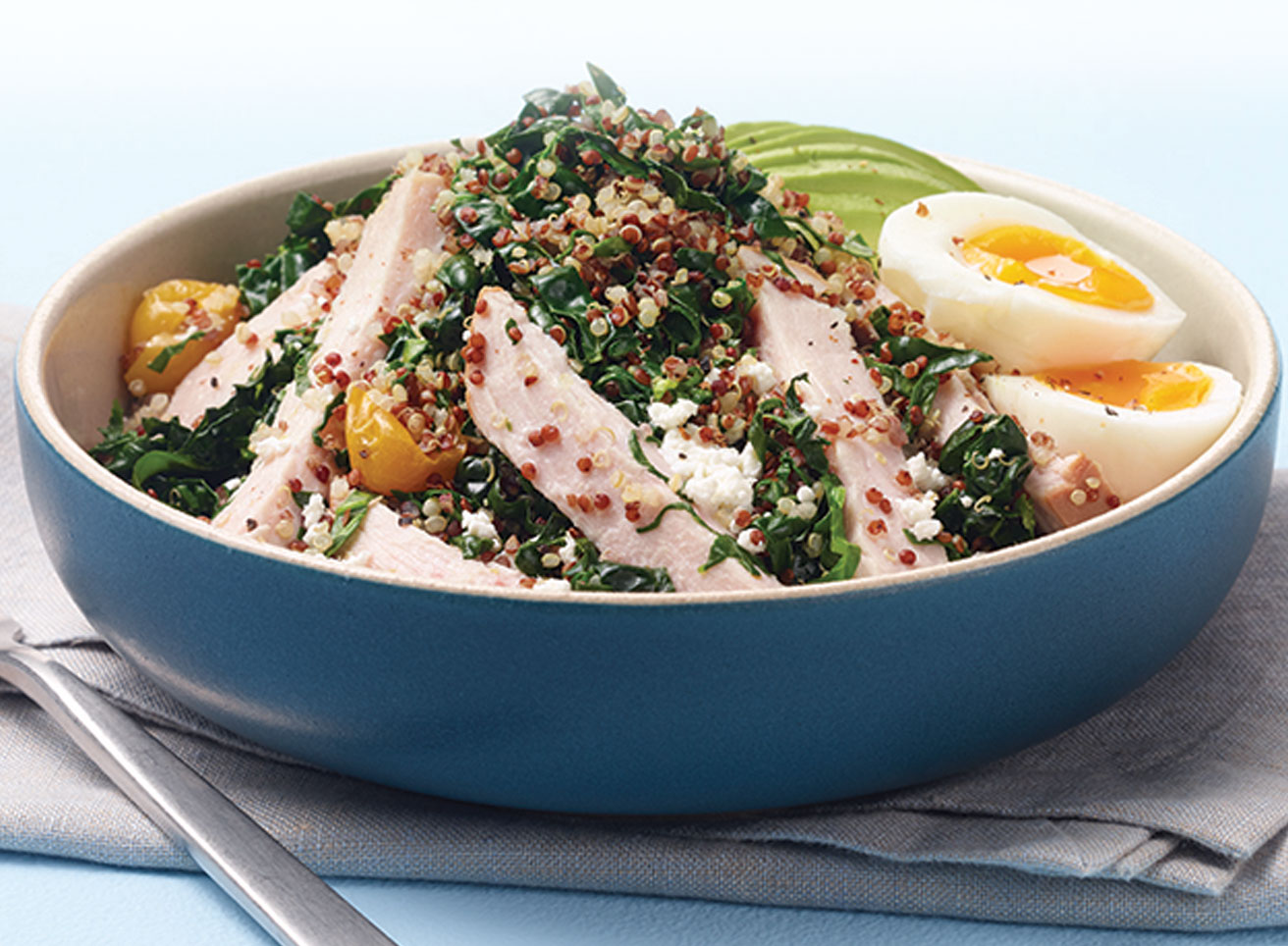 Turkey Quinoa Breakfast Bowl
Directions
Heat the olive oil in a heavy-duty skillet over medium heat, then add the kale and spinach. Sauté the greens until they're wilted (but still very green) and then add the quinoa. Stir/sauté until well blended and hot.
Arrange the quinoa and greens in a bowl, and top with the remaining ingredients.
Fan out the sliced avocado near the rim of the bowl, toward the center. Cluster the Blistered Tomatoes and Soft-Cooked Egg near the sliced avocado. Place the crumbled goat cheese in the center. Arrange the lightly grilled julienned turkey in a mound in the center.
Add salt and pepper, to taste. Note: When preparing the quinoa, rinse it in cold water before cooking. Sub the water with turkey or poultry broth.
Ingredients
3 oz Butterball® Honey Maple Turkey Breast, julienned, lightly grilled
1 cup kale, lacinato, shredded
Nature's Best Dairy® Cheese Crumbles, Goat
1 Nature's Best Dairy® Egg(s), soft cooked
1/4 Peak Fresh Produce® Avocado(es), peeled, sliced
1 cup Peak Fresh Produce® Spinach, shredded
pepper, black
1 cup quinoa, red and white, cooked
1 tbsp Roma® Oil, Olive
3 tomato(es), blistered
Blistered Tomatoes
Directions
Heat the olive oil in a small heavy-duty sauté pan over medium-high heat.
Add the tomatoes, stirring 2–3 times, until their skins blister. Do not overcook—the tomatoes will collapse. Add salt and pepper, to taste.
Ingredients
3 Peak Fresh Produce® Tomato(es), Grape, large
pepper, black
1 1/2 tbsp Roma® Oil, Olive
salt, sea