Shrimp and Pork Belly Bucatini
About this Recipe
In this filling dish Bay Winds® shrimp and West Creek® pork belly are tossed with pasta in a creamy Arrabiata sauce and sprinkled with Parmesan cheese.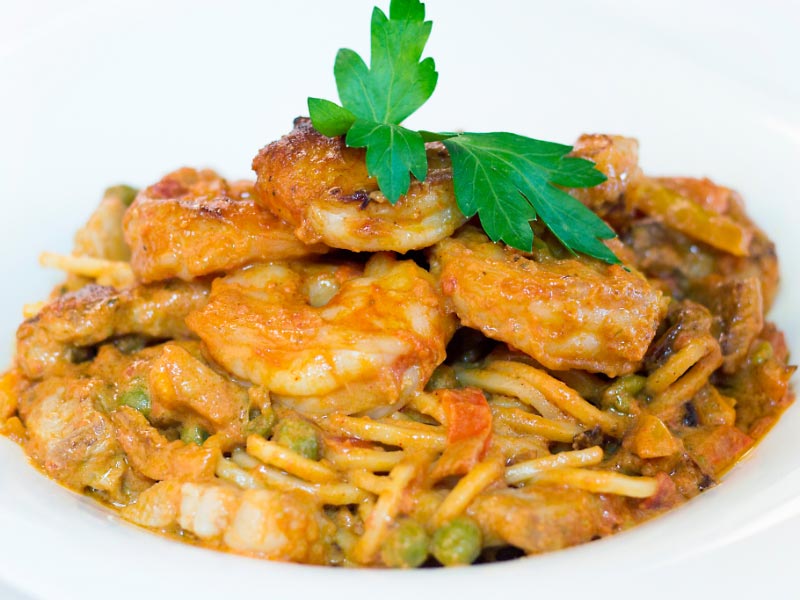 Shrimp and Pork Belly Bucatini
Directions
Place olive oil in a sauté pan, add peppers and pork belly, and sauté until tender. Add peas and shrimp, and sauté until shrimp is 3/4 cooked. Add the cream sauce. When heated add the pasta and toss.
Place in a bowl, bringing the shrimp to the top. Sprinkle with Parmesan cheese and parsley.
Ingredients
4 oz. Allegiance® Pork, Belly
6 oz. arrabbiata cream sauce
4 oz. Bay Winds® Shrimp, White 26/30 Raw, Peeled and Deveined, tail off
5 oz. pasta, bucatini
1 pinch Peak Fresh Produce® Parsley, Fresh, chopped
3 oz. Peak Fresh Produce® Peas
3 oz. Peak Fresh Produce® Pepper(s), Rainbow, sliced
1 oz. Roma® Cheese, Parmesan, shaved