Tex-Mex Migas
About this Recipe
This fajita-like dish is perfect for any time of the day- breakfast, lunch or dinner!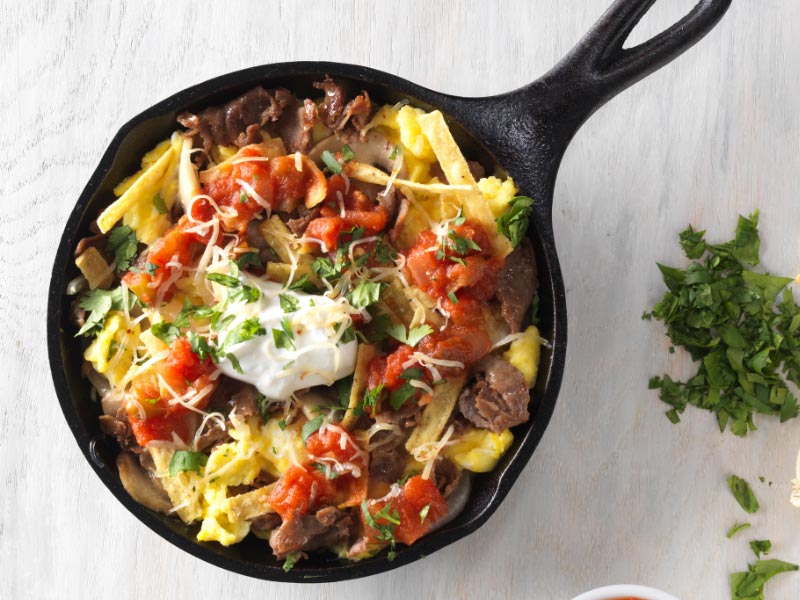 Tex-Mex Migas
Directions
Sauté mushrooms and onions with 2 tablespoons of butter until soft.
Whisk together eggs and milk, cook to a soft scramble. Add beef and mushroom mixture to eggs and heat through.
Add tortilla strips and salsa.
Divide onto four serving dishes. Top with sour cream, cilantro and any optional items.
Ingredients
4 portions Contigo® Beef, Strips, marinated with food starch
1 cup Contigo® Cheese, Pepper Jack, shredded
6 oz. Contigo® Salsa, Thick & Chunky
2 cups Contigo® Tortilla Strips, Tri-Color
4 Tbsps. Nature's Best Dairy® Butter, divided
12 Nature's Best Dairy® Egg(s), large
3 oz. Nature's Best Dairy® Milk
4 Tbsps. Nature's Best Dairy® Sour Cream
2 Tbsps. Peak Fresh Produce® Cilantro, chopped
2 cups Peak Fresh Produce® Mushroom(s), Button, sliced
1 cup Peak Fresh Produce® Onion(s), White, sliced